...Besides the divine looking Sidharth Malhotra and Jacqueline Fernandez, of course.
A confession at first.
I loved Bang Bang.
I know, I know, I must be among the handful of folks on the planet who had a ball watching the Hrithik-Katrina caper.
Bang Bang, I thought, was paisa vasool -- it had movie masala, dance, music... okay, the story didn't make much sense, but few film stories do these days.
When I watched the A Gentleman trailer, I got the same Bang Bang feeling.
Of course, Directors Krishna D K and Raj Nidmoru deny it is a Bang Bang sequel.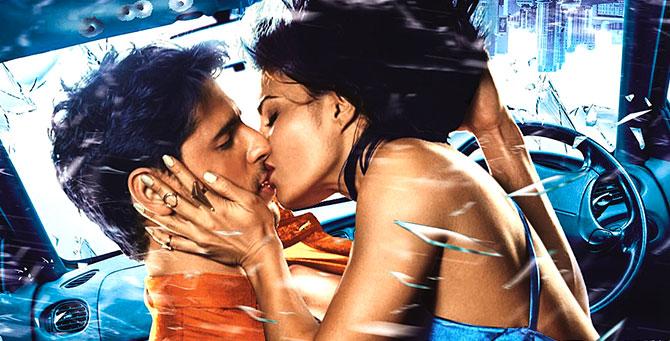 From what I saw in the trailer, it seems Sid M has learnt to emote.
It's taken him only 6+ movies, but the lad may -- I say may because we'll have to wait till the A Gentleman credits roll to know pucca -- have finally picked up some acting.
Jackie F's character is looking for some thrills, is bored of Sid's 'gentleman' Gaurav. Then, she meets his double, Rishi.
Suniel Shetty plays the bad guy, like he did in Farah Khan's debut movie Main Hoon Na.
And we hope Anna -- who turns 58 on 11/8 -- has a chunkier part in the movie than the blink-and-miss we saw of him in the trailer.
The best thing about the trailer is the action.
I hope DK and Raj don't serve up a clunker like they did with their last movie, Happy Ending.
That film had an outstanding trailer too.
Fingers crossed.