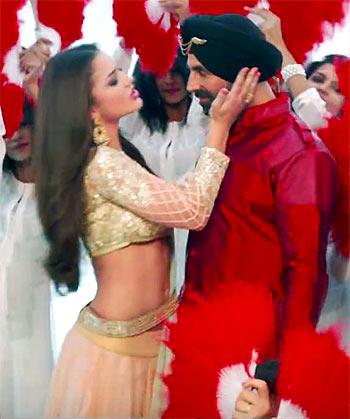 Raja Sen is not happy with the new Singh is Bliing trailer.
Look, I quite dug Singh Is Kinng.
It was ridiculous and loud and inane but Akshay Kumar -- at the height of his powers as an entertainer -- carried it off with the kind of zany flair Amitabh Bachchan showed in campy movies back in the 1980s, and Kumar alone made it work.
I freakin' had a blast.
That was seven years ago.
Kumar has meanwhile proven himself watchable even in bad movies, but the new Prabudheva film Singh Is Bliing -- while in the same badly-spelt cornball territory as Kinng -- looks dismally unfunny.
The same pagris-and-chicken Punjabi affection is all broadly slathered on, of course, and Kumar's looking relatively spry for his greying years, but where are the jokes, paaji?
Kay Kay Menon is hamming it up as the bad guy, Lara Dutta tries to make the best of some glorified secretary kind of role and there's Amy Jackson, playing a girl who can't act.
At least, that's what I hope she's up to. Riding horses and smiling and not acting.
Marvellous.
Akshay Kumar's Raftaar Singh, prancing around Punjab like a son Dara Singh never had, seems to be graceless and stupid, sure, but also a man with superheroic stuntman-shaming powers.
This is basically like Kumar's own film Aflatoon with a lot of Punjabi and a turban thrown on -- complete with the retina-tearing fluorescent palette.
Singh Is Bliing releases on October 2, continuing Bollywood's obsession with releasing hyper-violent movies on the Mahatma's birth anniversary.
Let's see if Kumar can pull off the 'singh-giri' one more time.