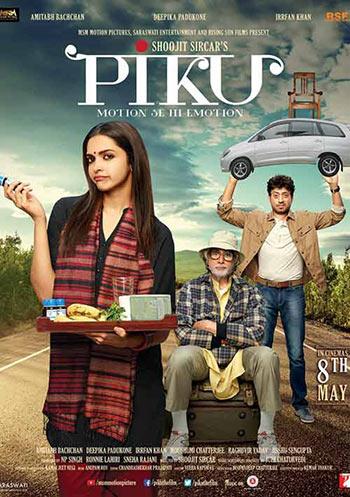 Piku should hopefully be some good shit, says Raja Sen.
Ah, god bless Shoojit Sircar and his love for bodily fluids.
After his two-fingered salute to sperm in Vicky Donor, the director is back with Piku, a film that looks to be a fond take on constipation and the importance of, um, motion.
Amitabh Bachchan features as a cantankerous old man prioritising his stomach and his toiletary routine above all else, much to the chagrin of his pretty daughter Piku, played by Deepika Padukone.
As shown in the trailer, Piku scowls and yells at her father but she does indulge his idiosyncratic obsessions... even if, like him, she's complaining all the while.
It takes for a third person to objectively look at this weird but believable father-daughter dynamic where love is masked by much irritation on the surface. That role here is played by the ever-awesome Irrfan Khan, who tries to make sense of the way this daughter allows her father to drive her, well, potty.
The trailer opens with a cracking line.
They're all driving to Benaras and someone wonders about Bachchan, about how long his eyes have been closed. Were he to drop dead there wouldn't be a more appropriate place than Benaras, deadpans Irrfan drily.
The trailer then shows us Piku and her father, quickly establishing the basics: her mother has passed away, she works in some sort of advertising/design kinda space, and there are way too many books at home.
I kid, I kid -- as if there can ever be such a thing as too many books inside a Bengali house.
Deepika complains about her father leaving an over-informative bowel-themed message for her at her office, to which his reply is to nonchalantly let her finish and only then turn on his hearing-aid.
Padukone is excellent in the trailer as the reluctant but loving daughter, her performances now seeming more confident and assured with each film: it is as if she has understood the value of restraint and completely eschews the need to overplay her bit, at least in films like this.
She's even got the Bangla tone and pronunciation spot on.
Irrfan, of course, is an infallible actor plus he earned his honourary-Bangali status with The Namesake.
It is odd, then, that Bachchan himself doesn't seem to be getting the Bangla right -- until the very last seconds of the trailer where he forces a man to keep hissing so he can relieve himself.
It's a fine, hilarious moment but the rest of the trailer sees the Big B in too caricaturish a Bengali accent, which is peculiar given that Sircar is a very Bengali director and that Bachchan himself in his heyday managed to play Bengalicized characters quite marvellously in the Hrishikesh Mukherjee films.
The only fear with this trailer is that Bachchan is given too much of a hammy part.
But for now we should smile at Shoojit's deft touch and his now-characteristic affection for the scatological.
Piku should hopefully be some good shit.
It releases on May 8.