Tiger Zinda Hai returns to the same moronic space where it's all about slow-motion Salman, his checkered scarf, his fleeting shirtless-ness, his unrealistically beefed up body and a taken-for-granted indestructibility, says Sukanya Verma.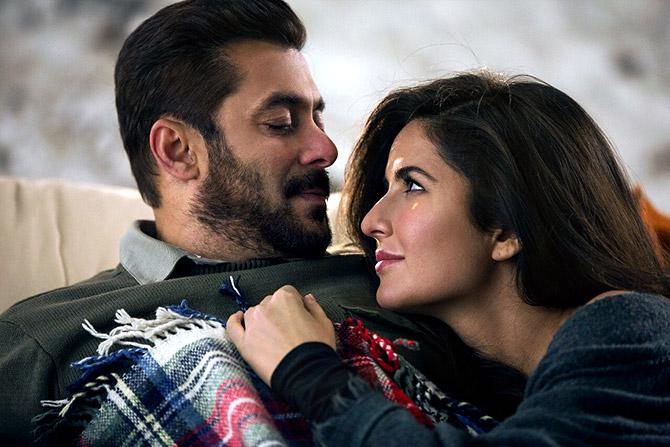 At a time when Salman Khan vehicles were only about stoking his smug bravado, Kabir Khan's Ek Tha Tiger tempered things down to create a more practical hero in cahoots with a livewire leading lady. The gig was a success.
Tiger Zinda Hai, its inevitable, gratuitous sequel, has none of the smarts, wit, kineticism or aplomb to pull it off.
Directed by Ali Abbas Zafar, the follow-up is a work of staggering stupidity jostling its thoughts on humanism and harmony through sanctimonious speeches about insaniyat and images of Ganpati and crucifix lodged side by side.
Its sloppily written script -- fitted into a worn-out Hollywood action template -- Tiger Zinda Hai preens at its rickety reporting of Middle East terror and comical understanding of the business of war for what seems like a lifetime.
Its Rambo, Jason Bourne, Ethan Hunt evocative aspirations could be stuff guilty pleasures are made of it only there was an iota of spunk to the 'decoy dhamaka.'
Rather than play on its strengths of snazzy, swift action, it creates a generic atmosphere of dust haze, chaos, sepia toned frames, bullet shots and fire explosions.
Keeping with the globe-hopping nature of espionage themes, things are set in motion in the wee hours of Syria leading to a hijack-like scenario in Iraq where a group of Indian and Pakistani nurses are held hostage by a terrorist organisation called ISC.
In a typically Bollywood move, poor little R&AW (portrayed by a dull Girish Karnad) has no one fit for the job and has to call on the services of an exiled agent to carry on the rescue mission.
What follows is everything that's wrong with the world and our movies -- something that's unwittingly demonstrated in the introduction scenes of Tiger Zinda Hai's two leads.
Tiger (Khan) and his cub make an entry against the snow-capped Austrian Alps to engage with a pack of dimwitted wolves. If the shock at hearing Salman spout gyaan about hunting wasn't crazy enough, the ridiculous level of patience the wolves show in holding back their attacking instincts while the father-son casually chit-chat is just bonkers.
Once the aforementioned snow scrap has underscored Salman's machismo sufficiently, the scene cuts to his wife Zoya (Katrina Kaif) picking potatoes at a grocery shop. The domestication of the erstwhile ISI spy isn't lost on us. If anything the impressive knocks she hands out in the subsequent seconds rub it in even more.
While Tiger's busy educating his son on the virtues of Indian nationalism, his Pakistani better half is toiling in the kitchen and only thinly veiling her sarcasm when he cooks his kaali dal specialty for the boss.
Katrina may wear a permanent pout that looks out of place outside those scorching magazine covers but the secondary status she's confined to after a scene stealing turn in the first one is most unfair.
Tiger Zinda Hai destroys the balance Ek Tha Tiger stood for to return to the same old moronic space where it's all about slow-motion Salman, his checkered scarf, his fleeting shirtless-ness, his unrealistically beefed up body and a taken-for-granted indestructibility.
So it's rather cute when he insists on putting together a needless team of sniper, bomb defuser and computer whiz when he will go ahead and save the day each and every time.
As a result of his misplaced modesty, talents like Paresh Rawal and Kumud Mishra are reduced to props in thankless parts. Several other characters pop up in the course of its narrative representing extremism, courage, fear, America -- all cardboards though with zero stakes or presence, failing to shine during the few seconds Tiger Zinda Hai's focus shifts from Salman.
Salman sleepwalks in this recycled skin. He's bit of a bore actually with nothing zany to say or new to do. Although his sudden burst of Nirupa Roy-inspired 'You're like my son' sappiness is accidentally amusing.
As is its insistence on mixing oil and water, R&AW and ISI, India and Pakistan through frivolously argued through wishful collaborations and schmaltzy gestures to soothe its 'it's complicated' relationship status.
Of course for all its nerve, the argument is NEVER equal. Pakistan is always defensive to India's offensive. The aman ki asha facade falls through the minute a Pakistani hoists an Indian flag and there's a conspicuous lack of reciprocation. Almost as if to salvage the awkwardness of it all, a Pakistani then hoists his own flag as well.
Safe idealism or simply phony, you decide if you intend to endure 161 minutes of this toothless, tiring, plastic Tiger Zzzzzinda Hai.
Rediff Rating: