Sye Raa Narasimha Reddy is a larger-than-life spectacle that deserves a theatre viewing, feels Karan Sanjay Shah.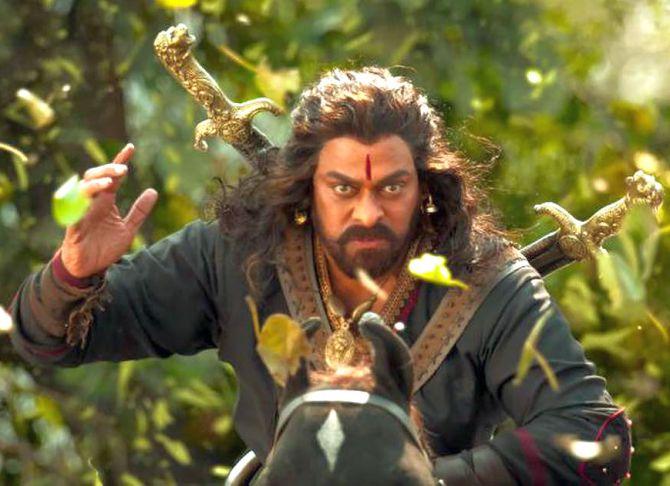 Historicals, especially relating to India's freedom struggle, have intrigued audiences time and again.
From Lagaan, The Legend of Bhagat Singh, Gandhi or even Manikarnika: The Queen of Jhansi, we have seen stories of important people associated with India's freedom struggle on screen.
But Sye Raa Narasimha Reddy will reveals a part of the freedom movement you might have never heard about!
Before any other freedom fighter, there was Sye Raa Narasimha Reddy and this movie is about him, his bravery and how he inspired a nation to fight for its freedom.
Yes, he's the one who inspired the likes of Rani Laxmi Bai to revolt against the British Rule!
Sye Raa Narasimha Reddy showcases the untold story of how the southern part of India kick-started the demand for freedom from the British Raj.
How a brave child, who had defeated death at birth itself, grows up to become a leader.
Following the guidance of his guru, Gosayi Venkanna (Amitabh Bachchan), Sye Raa Narasimha Reddy (Chiranjeevi) becomes a well-mannered man with good ideals and a kind heart.
The movie showcases his love story as well.
The writing and adaptation of the real-life character and the freedom struggle is admirable.
Director Surender Reddy and his team take various liberties and make the movie dramatic but it is the opulence that will grab your attention.
The dialogues are noteworthy, especially the ones delivered by Chiranjeevi. Some of his words and sequences will stir up the patriotic fervour in you.
The twists in the tale will make you jump out of your seat.
The action sequences, the battles and even the emotional moments are worth a mention.
Chiranjeevi, Sudeep (playing Avuku Raju) and Vijay Sethupathi's (playing Raja Pandi) action sequences as well as Tamannaah's (playing Laxmi) dance sequences are breathtaking.
The setting and details are well taken care of. The lighting and background music complement well.
The film has a great ensemble cast and everyone's performance is top notch.
But the film rests on Chiranjeevi's shoulders, and he's fantastic!
He delivers the punchlines as well as the action sequences.
Amitabh Bachchan has a cameo but it's a prominent one. His dialogues leave an impact and his delivery is on point.
Sudeep and Vijay Sethupathi have powerful parts but we hoped to see more of them alongside Chiranjeevi.
Tamannaah and Nayanthara have brief parts but they shine bright and look stunning.
The larger-than-life canvas will mesmerise you.
The story keeps you hooked till the very end and leaves you with important lessons.
The inspirational freedom struggle will tug at your heart strings but there are times when it falters too.
At two hours and 50 minutes, the film seems too long. There are too many slo-mo shots.
The story also feels stretched at times and at least 30 minutes could have been edited out.
The screenplay could have been better too, as a few important sequences fall flat.
Certain scenes look heavily inspired from the Baahubali series, 1981's Kranti and even Manikarnika: The Queen of Jhansi.
The tune of a song sounds similar to Kedarnath's Namo Namo, which can be expected since the music director of both films is Amit Trivedi.
The climax, though impactful and applause-worthy, seems illogical and over-the-top.
Yet, Sye Raa Narasimha Reddy is a decent watch.
It is a larger-than-life spectacle that deserves a theatre viewing.
Rediff Rating: