Sacred Games 2 is an upgrade and is shaping up to be one of India's great cultural events, feels Sreehari Nair.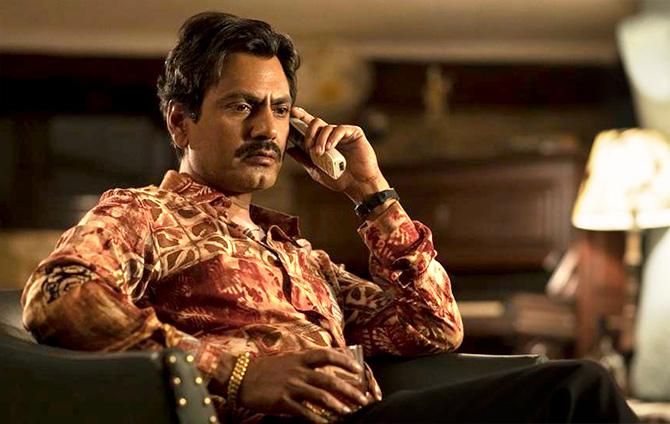 The second season of Sacred Games is viler, looser, freer and consequently better than the first.
Season One had two basic storylines, but I thought it contained two consciousnesses.
If Vikramaditya Motwane's Sartaj Singh section was a tragedy in search of hope, Anurag Kashyap's Ganesh Gaitonde (Nawazuddin Siddiqui) segment was a comedy marching toward doom.
If you could discover depth in it, I am afraid you may have overbilled it.
At its best, Season One of Sacred Games had wonderful satirical lightness and charm.
Though Motwane did some of his best work in his race-against-time segment (Katekar's murder and the subsequent cacophony gave me the jolts), the director's too controlled and too sincere approach never allowed the 'tragicomic' to sneak in.
There was no unapologetic kinkiness to be found -- the sort of kinkiness that was present in, say, Rajshri Deshpande's swift undressing post Gaitonde's killing of Chhota Badariya.
The comedy in Motwane-land was in the running gag of how the super-evil guys, who otherwise showered instant death on their opponents, acted out of character with the naïve and wide-eyed Sartaj Singh: how they chose to advise him, or engage with him philosophically, rather than bump him off.
In Season Two, neither is the Sardar cop puffed up for our sympathies nor are the other characters held back to raise our curiosities.
Neeraj Ghaywan takes over as the director of the Sartaj Singh portions and you can immediately sense that things have begun 'to move.'
Ghaywan keeps the image moving. And with him at the helm, the characters move better.
There's more movement of the camera.
An uncut chase sequence has the camera tracking up slowly to reveal Sartaj in hot pursuit of a lead.
Dialogues from scenes leak into subsequent scenes -- and so, we follow the plot more impressionistically (This is more gratifying than following it logically).
Anurag Kashyap's section continues to be modelled after the sensibility of the source material. As with Vikram Chandra and his novel, Excess is Kashyap's Fingerprint.
And now, with Neeraj Ghaywan to give him company, the show busts out all over.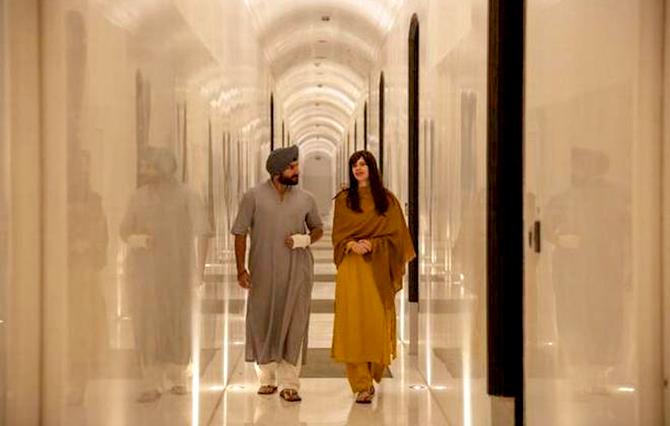 Season Two is nicely nuts through and through and so, it feels like one piece.
Multitudes emerge in characters and turn them richer.
The Sartaj-Majid sparring (Aamir Bashir returns as the snarky Majid) in this season is not just a marker of how ill-treated Sartaj is, it is also a tribute to those men who live each day in order to act out some part of their adolescent fantasies.
Ghaywan is careful that his plot-heavy segment gets enough Behavioural Touches.
One scene, for example, has Girish Kulkarni as politician Bhonsle, escaping from captivity using his shirt as a rope.
After he lands safely, Bhonsle tries to get his shirt back.
He leaps towards it but the shirt stays out of reach.
The state home minister, disoriented and disrobed, then roams the streets of Mumbai in his baniyan and pajama.
Though he scoops him out of Mumbai and smuggles him into Kenya, Anurag Kashyap preserves the dualities in Ganesh Gaitonde's tale: Killing as a substitute for Sex; Violence that gets mixed with Piety; Blood as a means to activate a soul that fears it is losing its Vigour.
Gaitonde can penetrate gangs and cut people open.
He also yearns to become an expert kisser.
Has there ever been a more Entertaining Monster in the history of the Indian arts?
The arc of his story, this time, involves Ganesh Gaitonde becoming saner, so as to achieve total insanity. And this arc is inundated with character interactions, treated almost like set pieces.
Watching the Gaitonde-Bunty set piece is like watching two jazz players at it.
Nawazuddin and Jatin Sarna, working out of a loose structure, improvise and create music as they go along.
Sarna's Bunty swears just as much as in Season One but his eruptions have more weight now -- they seem to be coming out of real confusions and searing pain.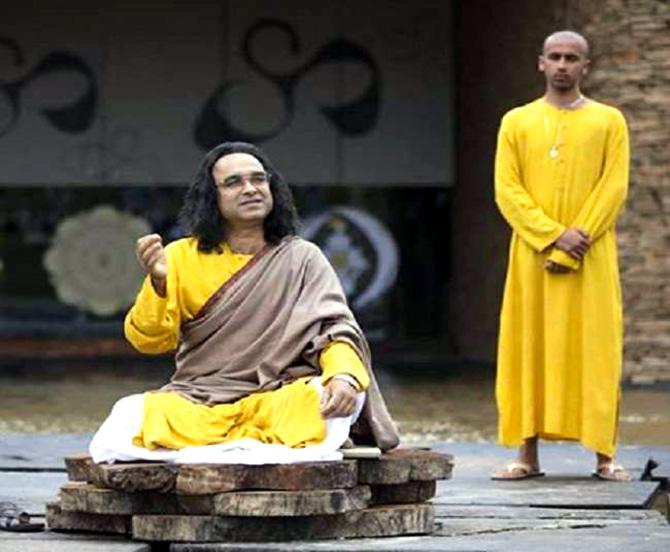 The Gaitonde-Jojo set piece (Surveen Chawla returns in the role of a lifetime, as Jojo Mascarenhas) is a great love story of the madman finding his equal. He cannot threaten to kill her because, as it happens, she is trying to kill herself.
Then there's Gaitonde trying to inculcate the spirit of tribal conquests in Purushottam Baria (Saanand Verma), who is committed to staying a weenie and whose real moment of glory comes when he gets a handjob in a swimming pool.
And finally, there's the set piece with Guruji (Pankaj Tripathi's other characters could be test-holes drilled just to unearth this one), where you see Gaitonde, alongside other dangerous men, surrendering to the reality that the Guru of Love, is, in truth, the biggest gangster of them all.
My personal disappointment in this instalment was watching the brilliant Amruta Subhash deliver a very mannered performance as the R&AW Agent, who takes Gaitonde under her wing.
Subhash's smugness feels like a put-on. Plus, she seems to have worked her character out too much in advance and, as a result, overdoes the small details.
One reason why R&AW Agent Yadav feels 'a little off' is because we know Amruta Subhash is, always, a bit too aware of what she's doing. And Nawazuddin Siddiqui's turn as Ganesh Gaitonde touches new heights, precisely by avoiding this trap.
I doubt if there's another actor in the world, right now, who has his unconscious so completely plugged into his best performances.
Nawazuddin brings to life everything from Gaitonde's clownish-savage innocence to his need to dramatise the self -- but it's almost as if all that just flows out of him. (In many scenes, I had the weird sensation that Nawazuddin's body is only a medium to deliver what his unconscious has prepared.)
The beautiful thing about this season is that the whole of Sacred Games has been raised to the Nawazuddin Siddiqui Ideal.
And so, everything we see on the show seems drawn from some place mysterious, and it gets lodged in some part of our brain that we haven't tracked down yet.
I don't want to sound religious, especially given the title; but this is shaping up to be one of India's great cultural events.
Rediff Rating: