The underlying message is clear: Please do not question Shah Rukh Khan's loyalty to India.
He is Indian, loves his motherland.
And he will continue to entertain India for as long as he can, applauds Aseem Chhabra.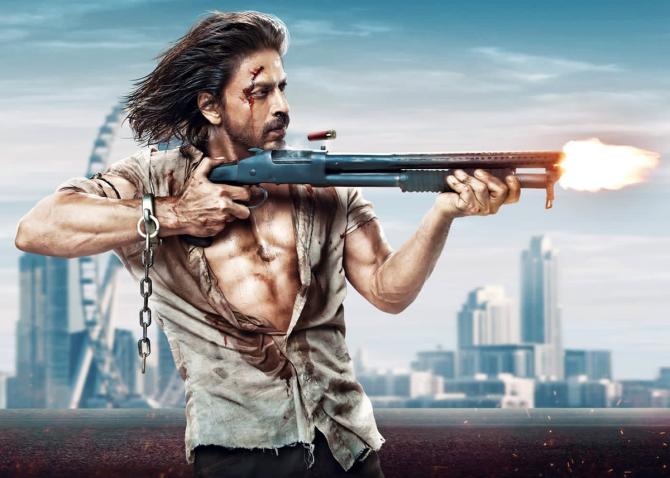 There's a brief epilogue scene at the end of Siddharth Anand's Pathaan.
Shah Rukh Khan, playing Pathaan, is seated on a wooden platform that was a train track earlier in the film.
He is accompanied with another superstar of our time, who makes a guest appearance in the film.
'It's been 30 years,' Shah Rukh says. 'I am thinking, perhaps it's time to retire.'
Then the two hint at the various actors who could inherit their superstar status. Soon they come the conclusion that the rest are all bachhas. For the sake of the nation, the two must not give up. The country wants them and they will stay.
That is the headline from Yash Raj Film's Spy Universe production of Pathaan.
After a hiatus of nearly five years, Shah Rukh Khan is back with a loud, explosive bang. And all those naysayers and paper tigers who have been trying to write him off can sit down.
Based on a story by Anand, and Shridhar Raghavan's script, Pathaan is essentially a patchwork of implausible -- although some spectacular -- action sequences.
It is like we are watching Mission Impossible, plus the Tiger series, plus War, and some MCU films.
The plot takes so many leaps that it often becomes hard to track where we are, Dubai, Moscow, Afghanistan, Spain or Delhi.
Pathaan, once a RAW operative, is sent by a secret government agency, headed by Dimple Kapadia and Ashutosh Rana, to stop a rogue agent Jim (John Abraham), who now works with Pakistan's ISI.
Along the way, Pathaan meets Rubina (Deepika Padukone), a gorgeous ISI agent. She is working with Jim, but she seems to have her own mission.
We learn that Rubina is somewhat of a 'good' ISI agent.
The real 'bad' ISI group is headed by one General Qadir, who is pissed off at India for abrogating Article 370 in Kashmir. Qadir, along with Jim, plan to attack India by releasing an extremely dangerous strain of smallpox over Delhi.
Of course, our Pathaan will save India, tracking Jim at various locations, fighting with Russian guards on top of a moving train, stopping missiles, jumping midair, climbing on top of glass towers in Moscow, riding on a motorbike on a frozen lake, and so on.
There is also a backstory to Pathaan: A name given to him by an Afghan lady, who nursed him while he was in a coma after he had joined the US forces to fight the Taliban.
Oh, and when he was a kid, his parents left him in a movie theater.
It was India's love that brought up Pathaan.
Since the country did so much for him, he decided to dedicate his life to India: 'Mere desh ne meri parvarish kari, to maine soocha main bhi maa baap ki seva karoon.'
If the message is not enough, we hear a version of John F Kennedy's famous quote: 'Ek soldier yeh nahin poochta hai ki desh ne uske liye kya kiya? Poochta hai woh desh ke liye kya kar sakta hai?'
The underlying message is clear as well: Please do not question Shah Rukh Khan's loyalty to India. He is Indian, loves his motherland. And he will continue to entertain India for as long as he can manage.
But messages, patriotism and all the actions scenes apart, Pathaan is a fun experience.
The camera loves the three good looking lead actors. Their larger-than-life appearance on the screen (I saw the film on an IMAX screen) makes two-and-a-half hours of Pathaan a joy to watch.
Shah Rukh struts around with an unkept look, his long greasy hair often tied in a man bun (the length of his hair keeps changing throughout the film).
He is charming, sexy but also works with his piercing eyes, menacing voice, and showing off his six-pack abs.
He has a screen presence unlike that of any other Bollywood actor, whether he is dancing, spreading his arms, confused and trying to read Rubina's intentions, or engaging in brutal fights.
Deepika, taking a cue from Kill Bill's The Bride (Uma Thurman), uses her slender body to kick and fight the bad guys and then looks so cool dancing to the film's two hit songs, Besharam Rang and Jhoome Jo Pathaan. She is her seductive best at a night club in Moscow, while she attempts to get the fingerprints of an uncle-like agent.
John Abraham has a solid meaty role, as Pathaan's nemesis.
At 50, his body and rugged face are a fine match to Shah Rukh's 57-year-old physique.
The first-day-first-show I attended felt no different than Rajnikanth film screenings in Tamil Nadu.
The audience cheered, whistled, clapped through the film.
Then at the end, as Jhoome Jo Pathaan was playing on the screen, a group of young men suddenly began to dance in front of the screen.
It felt like a Nattu Nattu moment in the heart of Noida.
Pathaan Review Rediff Rating: