...The story is boring, feels Aarush S.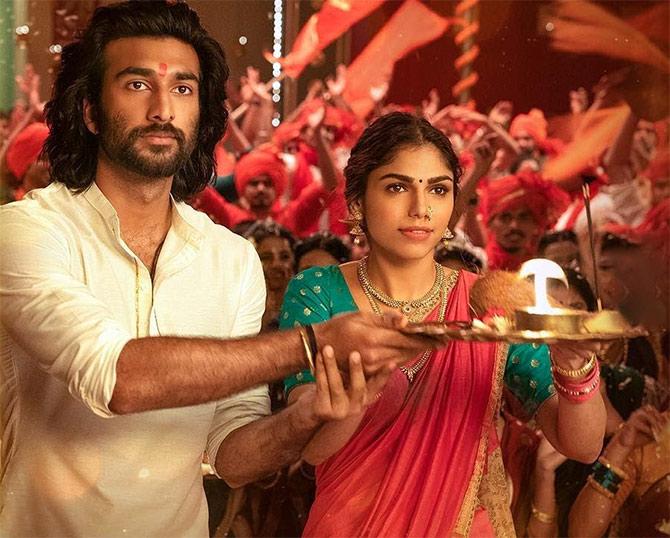 Before we get into an analysis of the film, it is important to mention that debutantes Meezaan Jaffery and Sharmin Segal are good performers and they deserve a better launch than this rusty, stretched-out love story.
Set in the 1990s, Malaal starts off quite ordinary.
A local tapori Shiva (Jaffery), living in a chawl, meets Aastha Tripathi (Segal), who is pursuing chartered accountancy. She has recently moved in the chawl after living a lavish life, as her father runs into financial trouble.
It starts off as a tu-tu main-main, but Shiva eventually falls in love with Aastha.
But, of course, she comes from a conservative family and her father wants to marry her off into a wealthy home.
Had this film released two decades ago, it could have struck a chord with the audience.
But we have come a long, long, way since then.
Produced by Sanjay Leela Bhansali, each frame of the film has been done up with care and that's evident from its striking visuals.
The smallest details in the chawl -- even the grandeur with which festivals are celebrated -- are well shot.
You notice posters of Bhansali's Hum Dil De Chuke Sanam, reflecting the timeline.
The music, especially the title track and Nadh Khula, sets the tone of the film.
The plot is incoherent, often convoluted. The sub-plots dilute the build-up of the story.
In the beginning, Shiva is shown to be affiliated to a political party which targets migrants. But that debate gets brushed under the carpet after the lead actors fall in love.
A remake of Tamil Director Selvaraghavan's 2004 hit 7G Rainbow Colony, Director Mangesh Hadawale (whose filmography includes the award-winning Tingya, Dekh Indian Circus and Tapaal) tries hard to narrate the same story in a different way, but he fails.
For a romantic drama, Malaal has its most essential element right -- the love story is impeccable -- but the romance never blossoms and so, it does not leave any impact on the audience.
The newcomers have done a fine job, especially Meezaan Jaffery who impresses with his acting.
It's only because of the lead actors that you survive the 136 minute long film.
The script has nothing new to offer and the story is way too boring.
What could have been a nice revisit to innocent coming-of-age romances turns out to be a boring affair.
Rediff Rating: