Laal Kaptaan deserves a watch just for Saif's spunk, raves Prasanna D Zore.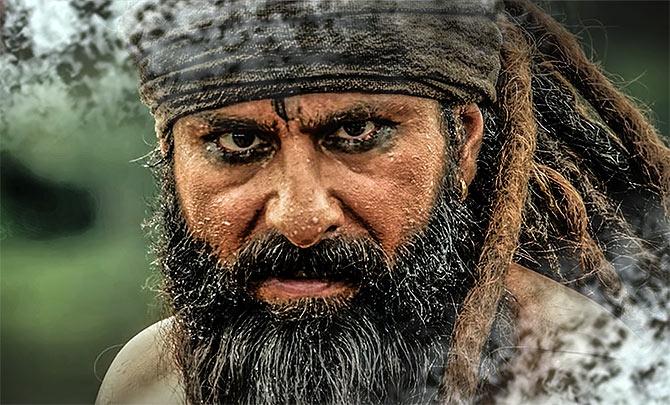 Director Navdeep Singh's gritty new film Laal Kaptaan totally relies on Saif Ali Khan's charismatic character of a Naga sadhu, and the actor does not disappoint.
Singh had proved his mettle and flair of converting mundane stories into taut dramas with Manorama Six Feet Under and NH10.
He pulls out another ace from up his sleeve with this story of a Naga sadhu (Khan as Gosain, pronounced Gosai, an ascetic cult of Naga sadhus worshiping Lord Shiva) out to avenge his father's death.
If Hollywood has the Wild West, Bollywood has the ravines of Chambal in central India and Singh uses the barren and desolate landscape of Bundelkhand to bring out the silent rage devouring Laal Kaptaan's protagonist.
Cinematographer Shanker Raman must be applauded for his brilliant landscaping of the Chambal ghati. The climax on the banks of the lush green, rain-drenched Yamuna is a work of art.
Jabeen Merchant's editing, though stretched at times (the film's length is more than 150 minutes), perfectly brings out the central theme of revenge and salvation set amid battles, rivalries, treacheries and treason.
Saif's Gosain is a good mix of an Indian Naga sadhu (ascetic), Japanese Samurai, Captain Jack Sparrow of The Pirates of the Caribbean -- minus the wit -- and Uma Thurman's sword-wielding revenge-seeker in Kill Bill.
He is thirsty for revenge and therein hangs a tale (pun intended; watch the film to know just what it is :)).
The film is set in the backdrop of the historic Battle of Buxar (1764) that entrenched the East India Company's reign in central India soon after they had established their sway over Bengal after the Battle of Plassey (1757) during which the Nawab of Bengal Siraj-Ud-Daula was betrayed by his general Mir Jaffer.
Laal Kaptaan has its Mir Jaffar in Rehmat Khan (a menacing Manav Vij, who is gracious enough to spare the lady -- a ravishing Zoya Hussain-- but not his wife -- a wasted Simone Singh) and he plays Gosain's revenge interest.
The joker of the pack is Deepak Dobriyal, an enterprising buccaneer, who helps sniff (yes, you read that right) out people for gold coins or anything of value.
What a wonderful actor Dobriyal is! It's the loss of cinema that he barely gets cast in the movies.
Director Singh makes up for Captain Sparrow's missing wit with Dobriyal's brilliance.
That brings us to the dependable, handsome (so what if he flaunts his flowing jatas) Khan, who wears a funny headgear, has a swash-buckling gait, a face smeared with ash and a sexy torso (so unlike a Naga sadhu, but that's nitpicking).
He adeptly portrays a man hungry for revenge in every frame of the film. He's always in search of his prey, the mighty Rehmat Khan.
Khan's Gosain must be watched to be believed.
His cool demeanor when faced with sure death, his cold, sphere-like glances at his enemy under duress and his rejection of Zoya's seduction, bring out the character's thirst for revenge and redemption.
If you are wondering why I haven't mentioned the blink-and-you-will-miss role of Sonakshi Sinha yet, then I must apologise. I must have blinked, when she appeared on screen.
Laal Kaptaan deserves a watch just for Saif's spunk.
Rediff Rating: