Housefull 4 is not for everyone. But if you enjoy comedies that don't make *any* sense, go ahead for this one, says Namrata Thakker.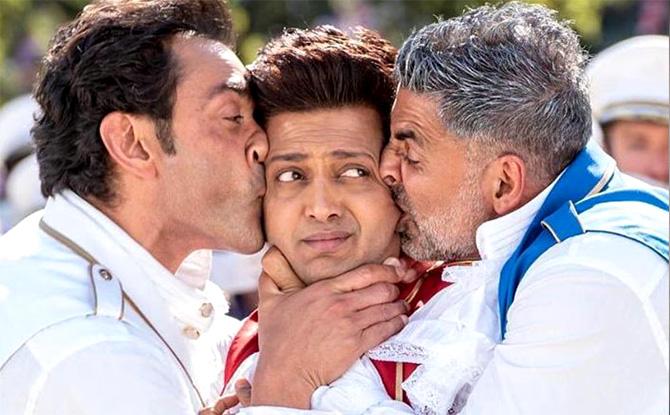 Akshay has already dished out two hit films this year -- Kesari and Mission Mangal -- and he returns with yet another release.

But unlike those two patriotic films, this one is a mindless comedy with reincarnation as its central plot.
Directed by Farhad Samji, Housefull 4 also stars Riteish Deshmukh, Bobby Deol, Kriti Sanon, Pooja Hegde and Kriti Kharbanda.
But Akki has got the meatiest role and the most amount of screen time.
The movie starts in London where Harry (Akshay) works as a hairdresser along with his two brothers, Roy (Riteish) and Max (Bobby).
He suffers from the Ghajini syndrome and ends up losing 5 million pounds that belong to a certain mafia don called Michael bhai (Sharad Kelkar).
To repay the amount, the three brothers hatch a plan.
They decide to marry Pooja (Pooja Hegde), Neha (Kriti Kharbanda) and Kriti (Kriti Sanon) respectively, as their father Thakral (Ranjeet) is a billionaire in London.
While the guys manage to impress the girls and their dad, Harry is puzzled by some visions from the past.
Anyway, the three couples -- Harry-Pooja, Roy-Neha and Max-Kriti -- head to Sitamgarh in India for their grand destination wedding.
That's when Harry aka Rajkumar Bala Dev Singh recalls his past from way back in 1419.
So now the story goes back in time and we are introduced to Rajkumar Bala, Bangdu Maharaj (Riteish) and Dharamputra (Bobby).
They fall in love with princess Madhu (Kriti), princess Mala (Pooja) and princess Meena (Kriti Kharbanda) respectively.
But their love stories don't have a happy ending and they die because of Suryaban (Sharad Kelkar).
Coming back to 2019, Harry realises that he and his brothers are getting married to the wrong girls -- but he's the only one who remembers the past!
So he decides to make things right, so that their love stories can have a happy ending, this time around.
Housefull 4 clearly does not offer anything new, story-wise. Even the reincarnation concept is done-to-death.
But the movie is entertaining in parts.
The flashback story has quite a few funny sequences.
Both Akshay and Riteish play their parts well.
Riteish especially is a treat to watch, thanks to his comic timing and expressions.
Bobby Deol is decent but hardly brings anything to the table.
Kriti Sanon has a good amount of screen time, compared to the other two ladies, and she acts pretty well.
Pooja and Kriti Kharbanda are in the film only to raise the glam quotient.
Many of the funny scenes will remind you of the comedy from the 1990s.
They are crass and will not make you laugh at all.

Chunky Pandey, Johnny Lever, Ranjeet and Rana Daggubati have cameos and they do well.
Rana is like the desi Khal Drogo and his look is impressive. His role and acting, not much!
Johnny Lever does his best but it is frustrating to see him do the same thing again and again.
Nawazuddin Siddiqui, also in a cameo, is absolutely amazing. He will remind you of Sacred Games' Gaitonde.
Housefull 4 is not for everyone.
But if you enjoy comedies that don't make *any* sense, go ahead for this one.

PS: The best thing about Housefull 4 is the Bala song, which plays in the background throughout. Don't forget the three pigeons in the film: Neil, Nitin and Mukesh.
Rediff Rating: