The Great Indian Family, observes Sukanya Verma, is a cheerful fable that points out the absurdity of discrimination as a tool employed by power hungry opportunists.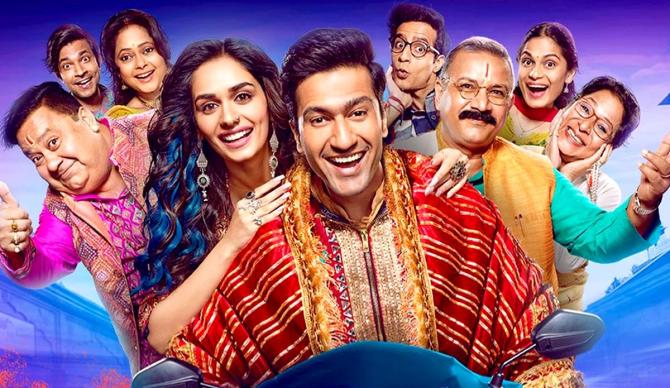 The Great Indian Family echoes the religious harmony envisioned by Yash Chopra in his first two movies.
In Dhool Ka Phool, a Muslim man raises a Hindu love child with hopes of, 'Tu Hindu Na Banega Na Musalman Banega Insaan Ki Aulad Hai Insaan Banega.'
His next Dharmputra reiterated those views when a Hindu fanatic learns the truth about his Muslim parentage as well an unforgettable lesson in sanskar from his adoptive father, 'Kissi khaas tareeke se khana pakana, pooja-paath karne ya Ganga mein snaan karne ka naam culture nahi. Roohani tarakqi ka naam culture hai.'
In The Great Indian Family, produced by Chopra's banner Yash Raj Films, a young Hindu Brahmin brought up in a family of temple priests grapples with his religious identity after learning he was born to a Muslim.
Six decades later, Yash Chopra's secular utopia is still a distant dream but his commentary is scathing as ever.
In comparison, The Great Indian Family, directed by Vijay Krishna Acharya, known for big ticket movies like Tashan, Dhoom 3 and Thugs of Hindostan, is a toothless take on the religious bigotry plaguing India's socio-political climate.
Treating depressing reality with broad humour, Acharya's well-meaning efforts to combine elements of satire are far too wide-eyed and on-the-nose to have any impact.
At best, a cheerful fable that self-righteously points out the absurdity of discrimination as a tool employed by power hungry opportunists, The Great Indian Family avoids keeping anything at stake.
Everything is either a set-up to shoot off zingers like 'Hari bhajan gaate the hum. Hara kapda pehna toh hari mirch lag gayi?' or fall for tiring symbolism and tropes distinguished by food, faith and fashion.
Pity, considering the talent at the centre of it all.
Vicky Kaushal is an all-rounder. He is droll as a small-town Bhajan king.
He is a picture of vulnerability when he has a falling-out with his family.
His sincerity is hard to miss when he appeals for sense and sensibility or switches from bhajan and bhangra to accommodate The Great Indian Family's entertainment quota and justify Manushi Chillar's absolutely gratuitous presence as a 'no-filter Proud Punjabi.'
There are flashes of fun in the terrific Kumud Mishra and terrifying Yashpal Sharma's ideological and horoscopic clash but before anything can come out of it, the makers have swamped the script in cliches (kohl, burqa) and childish display of curiosity.
Wait what, Muslims eat with their hands? Oh Allah Hu Akbar isn't like hi-hello?
The Great Indian Family's observations are staggeringly naïve and elementary or as a certain Rocky Randhawa would quip 'but obvio.'
For all its brethren blah blah and pooh-poohing of prejudices, there's no Muslim voice to be heard in its jumble of Brahmin supremacy and Hindu infighting. Things are far too lopsided to appreciate a lecture on unity in diversity.
The Great Indian Family sees rising intolerance as a game of snakes and ladders and democracy as a ritual for arriving at a domestic decision. Voting may begin at home, sure, but the venom now runs too deep.
The Great Indian Family Review Rediff Rating: