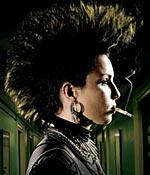 Aseem Chhabra reviews The Girl Who Kicked the Hornet's Nest.

This Friday Lisbeth Salander will be back in theaters in the US, fighting to restore her name, her reputation and also seeking to bring to justice those who have wronged her. 

It has been a long fight for Salander -- a personal journey of abuse as narrated by Stieg Larson in the global bestsellers the Millennium trilogy. Salander (as played in the films based on the books by a no-nonsense and full of confidence Noomi Rapace) has also the habit of landing in the wrong places at the wrong time. But that has been the thrill of watching The Girl With the Dragon Tattoo and The Girl Who Played With Fire -- the first two films based on Larson's books.

This has been a good summer for the fans of the Millennium trilogy. The three books have already sold over 40 million copies. It has been a must read book for beach vacations or a short train ride to work. 

Meanwhile the three Swedish films based on the books have already grossed over $200 million. And Music Box -- a small independent distribution house has been pacing the US release of the hit films in advance of next year's opening of David Fincher's Hollywood version of Dragon Tattoo with Rooney Mara (who played Mark Zuckerberg's girlfriend in the opening sequence of The Social Network) in the role of Salander.

The final film trilogy -- The Girl Who Kicked the Hornet's Nest opens where Fire ended. Salander has been brutally beaten up and left speechless -- by her half brother, the German giant Roland Niedermann (Mikael Spreitz) and her rotten father Alexander Zalachenko (Grorgi Staykov), a former Soviet spy who also ran a prostitution ring and then tried to bury his daughter alive. 

There is a bullet lodged in her skull. Now Salander is charged with the crime of attempting to kill her father (it was in self defense), but that will happen only after her full recovery in the hospital. Her comatose father is also admitted to the same hospital.

As written by the new scriptwriter Ulf Rydberg and directed by Daniel Alfredson (also the director of Fire), Hornet's Nest turns out to be the best of the three films. It is a shocking but a tremendously entertaining film that works like a taunt thriller, with enough captivating court room drama in the second half, giving the film a more conventional feel. 

But it is also packed with creepy killers -- mostly older men, some terminally ill, who want to lock-up their past associations with Zalachenko's prostitution ring. Their goal in this film is to silence Zalachenko, Salander and her friend Mikael Blomkvist (Michael Nyqvist), publisher of the Millennium magazine. And of course at some stage -- the quick thinking but small built Salander also has to deal with her monster half-brother Niedermann, whose body can withstand any form of beating.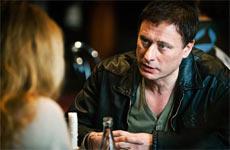 As in the past two films, Salander's case is also being defended by Blomkvist. They were lovers for a brief time in Dragon Tattoo, and while they hardly communicate anymore, Blomkvist continues to care for her and believes in her innocence. Also defending Salander is her lawyer and Blomkvist's sister, Annika Giannini (Annika Hallin) and her hospital physician Dr Jonasson (Aksel Morisse).

In director Alfredson's able hands and with the support of the cinematographer Peter Mokroskinski, soundtrack composer Jacob Groth and editor Hakan Karlsson, Hornet's Nest is European action-oriented commercial cinema at its best. Although inspired by Hollywood, the three films in the Millennium trilogy maintain a definite European flavour -- often going to places much darker than most American films ever do.The closest the three films come to are the works of Fincher (Seven, Fight Club and Zodiac) and no surprise there that he was picked to direct Dragon Tattoo.

We still have to see the Salander that Mara will interpret for the Hollywood film. Suffice is to say that it will be a hard act to follow after the kick-ass performances by Rapace. In the first half of Hornet's Nest she is tied down to her hospital bed, barely able to move or speak. But watch Rapace walk into the court room with her punk look -- in leather, with rings, chains and a mohawk hairdo. You will feel like standing up in the theater and applauding the actress and her character.
Rediff Rating: