If only The Girl on the Train was as invested in its potential as it is in Parineeti Chopra's kajalin the film, sighs Sukanya Verma.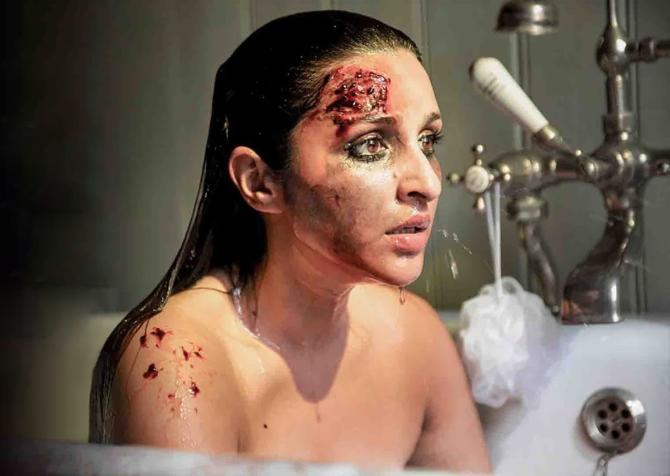 Although I cracked its suspense 100 pages too soon, I enjoyed how much fun author Paula Hawkins has around The Girl on the Train's unreliable narrator.
Its entire premise revolving around three women and their interconnected lives, building on intrigue and melodrama, is tailor-made for a movie.
Yet neither Emily Blunt's 2015 adaptation nor this new one starring Parineeti Chopra make the cut.
Where at least Blunt's uninhibited portrayal stayed true to the imagery of its source, Ribhu Dasgupta's umpteen 'tweaks' result in a remake that completely misses the point behind the plot's characters and their motivations.
Instead of a sly thriller saying something pertinent about gaslighting, The Girl on the Train is a drudging cat and mouse between implausible victims and manufactured offenders.
If on one hand, the feeble writing discards key protagonists, introduces needless ones and takes away all the context behind a person's reckless reactions, its laughable treatment of the dramatic moments ensures we feel nothing for its central character Mira Kapoor (Parineeti Chopra).
Like a scene of crime immediately cuts to a Punjabi wedding song or a video recording of Mira&'s unintentionally funny violent demonstrations.
As the alcohol-glugging lawyer out of job and mind dawdling about London's roads and rails, she sulks over her failed marriage in raccoon eyes and black nails.
Chopra is a vibrant presence, but completely out of depth as Mira in a role better suited for Katrina Kaif's accent and acting chops in Zero.
There is only posturing, tons of it, which only worsens with her voiceovers where she appears to be reading lines, not feeling them.
All the attention is on her smudge-free make-up, which is certainly more concrete than her performance.
The Girl on the Train is set in London, the kind you see strictly in Bollywood. The leads, cops, suspects and sidekicks are Hindi-speaking characters and murder investigations serendipitously happen against the Tower Bridge.
Mira develops an Instagram-like obsession over a pretty girl she sees during her daily commute.
The train window is her phone screen and her voyeuristic consumption of Nusrat's (Aditi Rao Hydari) life, a reminder of happier times. And so, the latter's unexpected actions threaten change in status quo.
Between booze and binging on Nusrat, Mira is a blubbering mess intent on solving spoiler-heavy developments just as cops (Kirti Kulhari sports a turban. And a super tight shirt. And skinny jeans. You get the drift) start probing her involvement over it.
A bizarre awkwardness envelope their interactions where only Parineeti stays in focus while the men (Avinash Tiwary, Tota Roy Chaudhary) and women have nothing meaningful to contribute.
Most people who've heard of the original book and movie have already watched it, which probably explains the surprises in the climax.
As if things weren't tame enough already, the twist hits like the final nail.
If only The Girl on the Train was as invested in its potential as it is in Parineeti Chopra's kajal in the film.
The Girl On The Train streams on Netflix.
Rediff Rating: