'Nimble humour, shuddh desi zingers, refreshing flippancy and a lively blend of small-town quirk and orthodoxy.'
Sukanya Verma applauds Bala.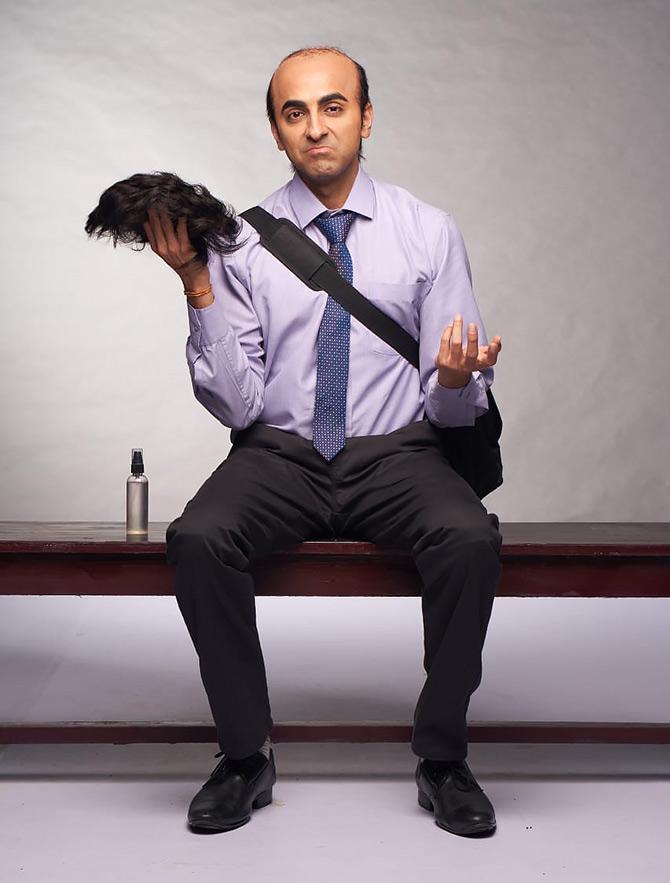 A bald man takes off his wig before a dark-skinned audience gathered to hear him promote a fairness cream. He's confronting his hypocrisy and addressing their insecurity. Still the crowd bursts into laughter.
Is it a nervous laugh or nasty? It's just ha ha, really. Some people laugh even if they themselves are subject to ridicule and prejudice. Some laugh because it's funny. Some laugh because it's harmless. Some laugh in the moment. And sometimes they do because that's all one can.
Bottomline -- there will be jokes. We've all made fun and been made fun of at some point in our lives. Few evolve, others don't. It may not be possible to rein in every man's impulse to find humour in another man's appearance.
But the one thing the butt of all those jokes can do is laugh the loudest, it'll drown out everything. Such ideal state of self-possession can only come from self-love.
Bala's (Ayushmann Khurrana) journey from cocky school boy to comfortable-in-his-own-skin adult forms the crux of Amar Kaushik's Kanpur-based Aesop's fable.
Though set in the hustle bustle of Uttar Pradesh's industrial town where every second finger flashes a pearl or coral, Bollywood's blustering influences on its denizens is hard to miss. Especially the titular hero whose Shah Rukh Khan fixation and heaps of Amitabh Bachchan and all those India's mimicry-dedicated lot swear by, underscores his heavily filmi outlook.
As the country celebrates fifty years of Big B's career, the superstar gets a rich tribute in the scene where a sloshed Bala and his drunk friends (Javed Jaffrey is a scream, Abhishek Banerjee is a riot) respectively mouth a line from Kabhi Kabhie, Muqaddar Ka Sikandar and Pink and offer a glorious glimpse of our deeply Bachchan entrenched beings.
Back in the day, Bala was the proverbial classroom charmer relying on his wavy hair, smug smile and hit Bollywood dialogues to win hearts. But teasing the class teacher about his receding hairline in unflattering doodles has its own karmic consequences as Bala finds out years later when the camera cuts to his balding pathjhad and a background music jeering takle, takle.
What makes Bala different from the recently released Ujda Chaman, which also revolved around self-conscious bald men, is how it views the circumstances as a matter of painful irony not parody.
Kaushik's film doles out nimble humour, shuddh desi zingers, refreshing flippancy and a lively blend of small-town quirk and orthodoxy. But at all times, it remains empathetic towards its characters.
Bala is deeply distressed by his situation and the Stree director as well as his extremely eloquent writer Niren Bhatt never lose sight of that. It's evident on the numerous occasions Bala checks himself out in front of the mirror as well as his desperate efforts to grow some hair back on his scalp. Needless to say, the latter leads to a series of amusing yet pitiable episodes.
From desperation to dung, Bala tries it all. Nothing works except provide us with two delightful outburst scenes.
The heartfelt diatribe delivered by Bala's kid brother (a scene-stealing Dheerendra Gautam) for having to do all the dirty work under the pretext of sibling duty is no less impressive than Bala's tirade wherein he angrily blames his father (Saurabh Shukla) for all his hereditary woes.
These are simple, everyday people defined by their hobbies. Bala notes and weaves India's two greatest pastimes in their conversations seamlessly. While the dad wisecracks in cricket analogies (Jitne wicket bache hain, unse inning bana lo), the son retorts in Bollywood (watch out for Bala's priceless Rakesh-Hrihik Roshan remark).
Saurabh Shukla's benevolence as the concerned, slightly guilt-ridden father is so effortless, you will not even notice it. Witty interjections from his father-in-law (Umesh Shukla) add to the spunk in Bala's cosy, crazy family picture.
A fairness cream salesperson in the day and aspiring stand-up by night, Bala has no use for subtlety, a characteristic his broad humour and mannerisms assert amply. Unable to look at his own inadequacies in the eye, he presumes the same anxiety plagues everyone and probably considers himself a good Samaritan for using lightening filters on his dark-skinned childhood friend and neighbourhood lawyer Latika's (Bhumi Pednekar) profile pictures at the behest of her aunt (Seema Pahwa).
The latter may have some image issues about her excessive facial hair but in Seema Pahwa's able performance, they don't appear caricature. Though never as vocal as her niece, she too seems comfortable just the way she is.
If only Bala would too. Bhumi Pednekar is an actress to reckon with, but the film's insistence to paint her in uneven shades of blackish brown distracts us from the intensity she puts in as a woman living on her own terms. The lack of authenticity is even more glaring when she is surrounded by naturally dark-skinned complexions.
Despite her strong calibre and good intentions, her tacky make-up does more harm than good to Bala's endorsement of be yourself.
And yet Bala has lot of plusses. The fairy tale progresses as soon Bala steps out of his comfort zone to experience romance at its campy best where his hairpiece is akin to Cinderella's glass slippers, lose them and the truth will come out.
Bala's heady love for Bollywood is reciprocated in Pari Mishra's (Yami Gautam) skin-deep splendour, clunky English and addiction to social media. It's a farce they willingly embrace when Kanpur's most 'edible bachelor' meets Lucknow's 'super model' and their vibrant tiktok courtship videos aspire to go viral.
A standalone attraction, these hilarious odes to 90s chartbusters alone are worth the price of admission. You're like a film, Pari tells Bala -- entertaining and feel good.
Only Bala is not the reality she's hoping for. Like his father says during a rare poignant moment, Asli aur asliyat ka zyada mel nahi hota zindagi mein. Although the film is quick to absolve Bala's dishonesty and defend it as desperation prompted by societal scorn, Pari's vanity is looked through a prism of grey. If anything, it emboldens Pari's unapologetic acknowledgement of who she is and what she wants.
Yami Gautam plays Pari with never-before-seen relish. Part delirious, part deluded, there's a gentle unhinged air to her compulsive, sincere artificiality that makes her both fascinating and heartbreaking.
Once again at the centre of an embarrassing problem, a nagging lie and potential heartbreak is Ayushmann Khurrana. And the actor channels everybody from SRK to Bobby Deol to Kamal Sadanah to play out a relevant issues of a real man and the idols we all create and emulate and fail to live up to.
This may not be a new performance, but it is an exuberant one. He seems to have found the magic formula for rising, falling and redeeming himself before those very eyes he seems to be looking at and looking through.
Rediff Rating: