Arjun Patiala doesn't add up to be the spoof it was meant to be, complains Prasanna D Zore.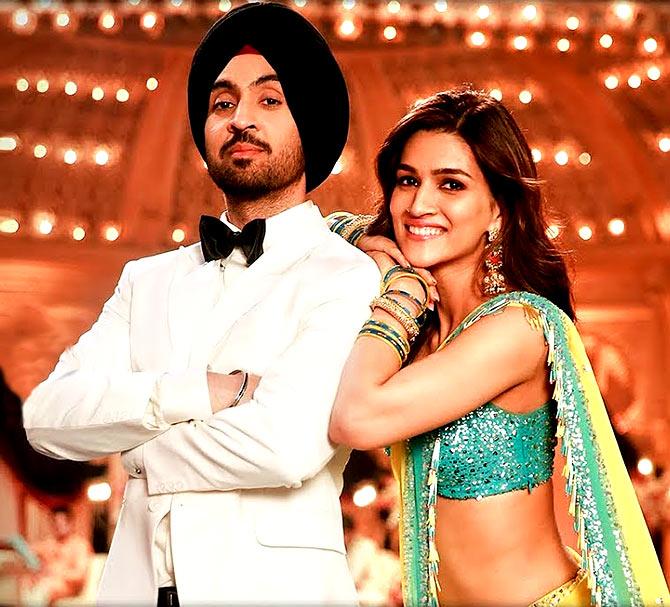 Diljit Dosanjh, Kriti Sanon, Varun Sharma, Ronit Roy, Mohammed Zeeshan Ayyub and Seema Pahwa are quite entertaining in the spoofy Arjun Patiala, but the film lacks the required punch.
As one enjoys the brilliant actors on screen, Arjun Patiala disappoints viewers even more, as it rolls on without any theme.
The saving grace for the film is Director Rohit Jugraj's experiments with Gen Z style of presentation, with emoticons popping out, animated graphics that narrate the story instead of a flashback, Dosanjh's soul talking to a dead character...
One would like to see more of these tech tricks in films to add a novel element to storytelling.
Dosanjh plays the titular Arjun Patiala, a judo champ and quirky cop with a quirky family. He takes it upon himself to fulfill his guru's (Ronit Roy playing DySP Gill) vow of ridding Ferozpur district of all crime and sets criminals against each other.
Arjun is assisted by his sidekick Onidda Singh (Yes, it's Onidda, there is no typo here), played by Varun Sharma, and the duo shares most of the screen time plotting against the gunda raj in Ferozpur.
Arjun's love angle is gutsy crime reporter Ritu Randhawa (Kriti Sanon) who throws the spanner in his work with her 'fake encounter is murder' theory.
Diljit really wins your heart in the film.
Kriti in a sari looks as ravishing as Sushmita Sen in Main Hoon Na. And she's just as good an actor.
Varun is an amazing sidekick.
Ronit Roy, Mohammed Zeeshan Ayyub and Suman Pahwa are fantastic!
But the characters are let down by Ritesh Shah's and Sandeep Leyzell's cliched story.
In its attempt to take potshots at everybody -- from film directors, producers, reporters, cops and politicians -- Arjun Patiala quite doesn't add up to be the spoof it was meant to be.
Rediff Rating: