Overall, the Thalaivi trailer is a convincing experience, says veteran Tamil Nadu politics watcher N Sathiya Moorthy.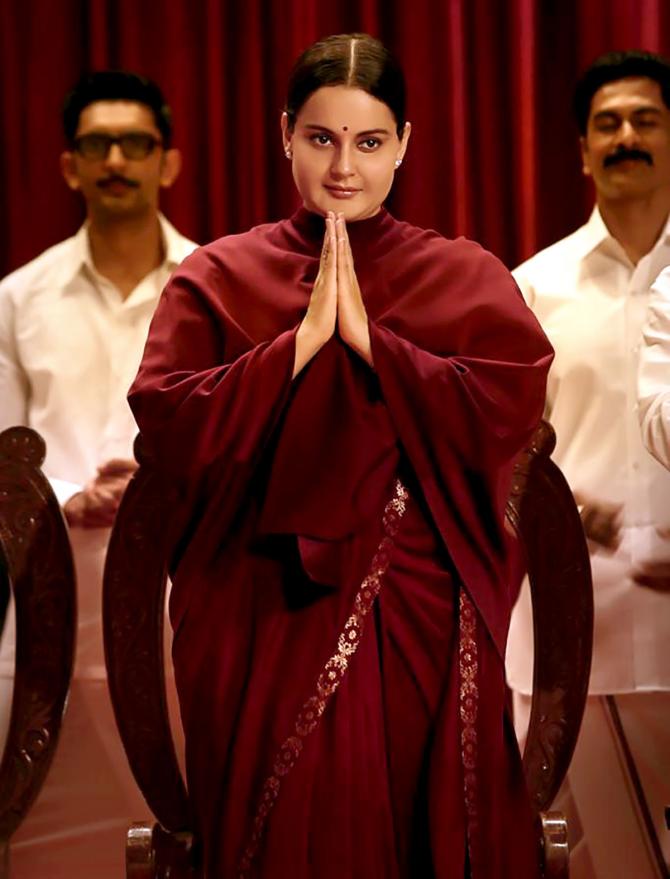 If the makers of Thalaivi, the multi-lingual biopic on Tamil Nadu's most charismatic politician, Jayalalithaa Jayaram, were waiting for the launch of the movie's trailer, they could not have chosen a better time.
With the campaign for the state assembly election heating up ahead of the April 6 vote, clearly, the trailer has the potential to take the message of the film -- rather, the film as a message -- forward, when it hits the screen (whether in cinema halls or other platforms, is for the pandemic to decide of course).
In Tamil, the word Thalaivi refers to a woman leader, the male equivalent being Thalaivar. It's anybody's guess why Director A L Vijay and his team did not choose the more popular referential term 'Amma' -- which is also more reverential than for any political leader in the country -- for the title.
For the eighties and nineties kids, 'Amma' may have resonated better than 'Thalaivi', but that is beside the point, if the film-maker is able to immerse the viewer in his story-telling and visual captures.
That way, yes, it may be difficult for younger viewers, and even others, to relate Kangana Ranaut to a plumper Jayalalithaa, as the latter looked during her political years. Rather, it was her weight gain, attributed to a milieu of physical ailments, that suddenly ended Jaya's movie career in the mid-1970s.
Thirumangalyam (Mangalsutra) (1974) in Tamil was her 100th movie, and it was downhill from then on, despite her displaying acting skills of some kind, which was missing in her earlier films, whatever the reason.
But in Jaya's case, when one door closed, then another, more populist and powerful one, opened. Into retirement, she caught the attention of her mentor and Chief Minister M G Ramachandran who in a way had doted on her while working together in the film world.
He did not discuss it in the open, but he was looking for a popular and equally powerful personality as himself to lead the party after his time. He knew Jayalalithaa, her intelligence, assertiveness and ambitions, all too well.
There was none around him, or away from him, who could have replaced Jayalalithaa for the new role he was etching for her.
A leader was born. And a new and Tamil Nadu's most powerful chief minister, surpassing even mentor MGR with his at times quirk ways, was in the making.
A trailer may not be the right medium to capture the essence of a full-length movie, but then, in this department, too, Team Thalaivi has done justice, or seem to have done so. The story-telling through the trailer is effective, yes, but how far it is going to make a full movie worth watching, remains to be seen.
Yet, the dialogues are powerful, both in English and in Tamil. And Kangana's facial expression and body language, and also the voice dubbing, all do justice.
Be it in the scene where she is shown declaring that after the Mahabharat where the insult of a woman made the story, it would be Jaya now, or retorting to a north Indian parliamentarian who sounded sarcastic about south Indians speaking good English, it completes the character with which the real-life Jaya was made of.
There is then the scene in which she tells Prime Minister Indira Gandhi (obviously in the Rajaya Sabha, where MGR had sent her early on to know national politics and develop contacts, both of which he lacked), 'If you give an ounce to Tamil Nadu, it will give you back a pound', the voice and body language is all vintage Jayalalithaa.
There were two occasions in the early life of Jaya the Opposition legislator where she was manhandled inside the chamber of the state assembly. It is one such scene that is shown in the trailer, the House in a mess and melee all around, and she seeking to protecting her honour by holding on to her sari pallu.
To whichever episode this scene began, this particular shot is at best over-dramatisation of the incident. For a biopic on a legend that had lived until recently, it is too much of a cinematic licence, as it could have non-filmi consequences of the kind, if screened in cinema halls, that too ahead of the polls.
What is striking about the film-maker's choice is Kangana, a relatively slim-looking Kangana (four-time National Award winner) for Jayalalithaa, whose later-day plumpness alone stands out in recent memory, and also choosing an otherwise plump-looking (though not really so) Arvind Swami to portray a health and looks-freak in MGR. That way, the audience may have a problem accepting Kangana as Jaya in a cape and all, which relates to the 1990s.
Both the voice and appearance of Arvind Swami also match that of MGR, but then there is this advantage that the present-generation film-goer, especially the 35-minus generation, may not have seen him, or may not have real memories about the man.
That way, Mani Ratnam risked Malayalam mega-star Mohanlal as MGR in his Iruvar (1997) and got away with it. Aishwarya Rai was his Jayalalithaa in the movie, whose title meant 'The Two', but then it was not a movie of these two, but of MGR and his friend-turned-political foe, Muthuvel Karunanidhi, played even more effectively by Prakash Raj.
That being the case, Aishwarya's character also ends with MGR's days, and did not have to show Jaya fighting her way through in politics and power-struggle, starting with MGR's very funeral. Kangana has to do that, and that also seems to be the untold story from Aishwarya's portrayal.
Then, there is the more recent Web series Queen (2019), made by the equally successful Tamil film-maker Gautam Vasudev Menon.
Being a multi-part serial, the powerful, and hence popular side of Jaya's tale did not start with first shot, first frame. The early parts were seen as a drag by some serial-watchers, just as Mani Ratnam's Iruvar took some of the punch by the film-maker's desire/insistence on bringing in some real-life characters (Karunanidhi's family members), who only distracted from the main story-line.
In the case of Thalaivi, the inevitability of the viewer's temptation to compare the real-life Jaya with this reel-life Kangana too may have been fuelled by the film-maker's depiction of close-to-life appearances and appendages (like the cape), but then that is also the challenge that making a biopic on a contemporary popular personality entails.
Overall, the Thalaivi trailer is a convincing experience.
The temptation thus will be for the Tamil film-goer to compare Kangana's Jayalalithaa with Ramya Krishnan as Jayalalithaa, the latter being an equally powerful actor who played a character closely resembling what was seen as Jaya's in superstar Rajinikanth's Padayappa (1999) than seeing Thalaivi as a standalone commercial movie with elements of realism and surrealism, the former thrown in for a story and the latter, for effect.
N Sathiya Moorthy, veteran journalist, political analyst and author, is Director, Observer Research Foundation, Chennai Initiative.