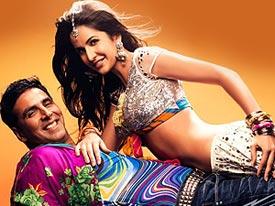 Aseem Chhabra reviews Tees Maar Khan.
Post YOUR reviews here!

Towards the beginning of Farah Khan's new film Tees Maar Khan, its protagonist Tabrez Mirza Khan also known as Tees Maar Khan (Akshay Kumar) talks to his girlfriend Anya (Katrina Kaif), about her acting bug.
Anya has just returned from performing her item number Sheila Ki Jawani. It is a stunning, hot and sexy performance, even though the song and the item number have no correlation with the film itself.
Tabrez tells Anya that the acting bug is like a chewing gum -- initially it tastes sweet, but then soon it loses its flavour. That is when you feel like throwing away the chewing gum, he adds.
TMK, scripted by Khan's husband Shirish Kunder, is like that tasteless, dull chewing gum that you feel like throwing away as soon as you take the first bite. With each bite, the film tastes worse.
The only high point about the film is its two hours length -- a rare thing for Khan. Her 2007 film Om Shanti Om -- an unapologetic celebration of the popular Hindi cinema of the 1970s -- ran 162 minutes. Main Hoon Na (2004) -- a musical thriller -- was nearly three hours long.
It is a surprise and a relief that TMK is much shorter. But I wonder how much longer TMK could have been under the guidance of Khan and Kunder. Even at two hours, the film feels like one long and tedious exercise in bad humour. Some people laughed during the screening I attended in New York City. However, most sat with glum faces, in a sense of disbelief.
How could a talented person like Khan make such an unfunny film?
I am a big fan of Khan, of her choreography from Chaiya Chaiya to Broadway's Bombay Dreams, and her hugely entertaining films. But something went terribly wrong with TMK even though it is inspired from Italian master Vittorio De Sica's 1966 comedy After The Fox.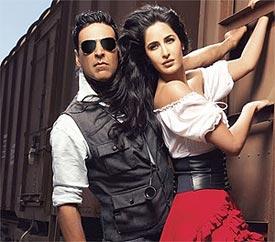 Comedies often work in Hindi language films. There has been a history of good, intelligent and yet wild comedies, including Chalti Ka Naam Gaadi, Chupke Chupke and Jaane Bhi Do Yaaro.
In recent years, we have seen a few other clever comedies like 99, Peepli [Live] and the thoroughly delightful Band Baaja Baaraat. But lately more and more Hindi language filmmakers are making slapstick comedies, and in doing so, they make their actors behave moronic, almost mentally and intellectually challenged.
TMK falls in the latter category. Every actor, every character -- the leads, cops, criminals, even the vast supporting cast and extras -- appear to be idiotic caricatures. The premise of the film -- although taken from After The Fox -- the writing, and dialogues emphasise and celebrate stupidity.
Tabrez is a criminal who always manages to escape from the law. Given his track record, the police are convinced that Tabrez is the only person who will attempt to loot a train carrying ancient Indian antiques.
Tabrez is hired for the job by Siamese twins -- Johri brothers (a cop describes them as chipkey huay judwa bhai), who dress in garish shirts and speak the same sentences simultaneously.
Tabrez is accompanied by his seemingly incompetent goons Burger, Dollar and Soda. Since stealing the loot from the train would require 300 more people, Tabrez and his goons convince an entire village that they are shooting a film about the Indian freedom movement. As part of the film, the villagers are called upon to loot a train carrying British treasure, to the inspirational sound of Mera Desh Ki Dharti from Upkar.
Also involved in the 'film project' are Tabrez's girlfriend Anya, who will give anything to become a successful actress and movie star Aatish Kapoor (Akshaye Khanna, with a wig, delivering an unbelievably silly performance), who is obsessed with winning an Oscar.
Aatish's one regret in life is that his manager had turned away a filmmaker called Danny Doyle. The manager had mistaken the filmmaker for Danny Denzongpa. Aatish is so hopeful he is bound for the Oscar ceremony that he often breaks into Day-Ho accompanied with the background sound of loud drumbeats -- a take on the Oscar-winning song that A R Rahman keeps performing everywhere he travels in the West.
The running joke on the Oscars also includes a ridiculous scene with Anil Kapoor on television jumping and dancing with joy, holding what looks like an Oscar statuette.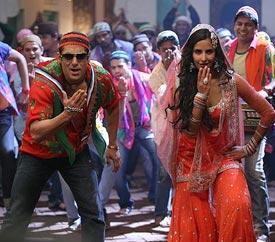 Tabrez introduces himself to Aatish as Manoj Day Ramlan -- the fair skinned brother of Manoj Night Ramlan, who apparently was born at night and hence is supposed to be dark.
There are other offensive jokes based on characters' skin colours including the early reference to a criminal Ismail Kola -- a dark man who only commits robberies at night. We are told that his skin colour blends into the dark of the night, but the cops are able to catch him when they see his shining white teeth.
>Khan and Kunder also work on a thread of insensitive gay jokes. During the so-called film shoot, Anya's make-up is handled by three effeminate men in pink shirts. As if it was funny, Anya refers to them as 'ladies.'
Later, for no apparent reason, the filmmakers state that Mukherjee and Banerjee -- the two straight laced but bumbling cops chasing Tabrez -- are gay. And if our gaydars are not fine-tuned, Khan, in a liberal state of mind, has the two exchange rings at the end of the film.
As Tabrez, Akshay Kumar walks with a swagger and is often shot in slow motion. Kumar tries hard, but seems neither cool nor funny. His charm helped him in a film like Singh is Kinng. In TMK, Kumar is handicapped with the weak dialogues.
Kaif's character and background story is poorly etched out. She is supposed to act as a ditsy wannabe actress, but in doing so, she delivers her career-worst performance.
What works in TMK are some of the song sequences. Sheila Ki Jawani and the qawalli Wallah Re Wallah show that Khan still has the knack to stage songs -- from choreography to costumes and production design. In Khan's first two films, the songs were an integral part of the narrative. But in TMK, the songs are forced and that is just bad cinema.
Rediff Rating: