Tandav is as mainstream and contrived as it gets, but not completely without its moments of charisma and drama, observes Sukanya Verma.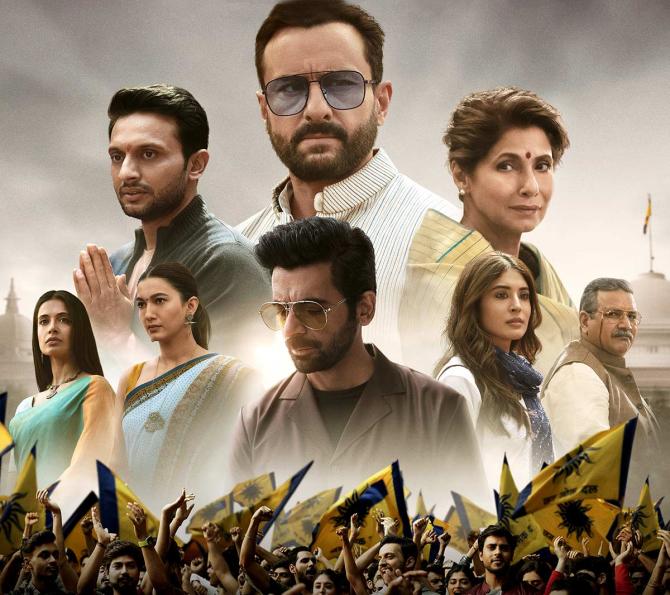 Between a game of chess and crime or a scathing satire, portrayal of Indian politics in popular media seems to be confined to a template of scheming or stupidity of how governance and corruption work in absolute tandem to view it for what it is in all its disturbing normalcy.
Both approaches are fine as long as they don't spread monotony in the genre.
Known for big ticket Salman Khan vehicles like Tiger Zinda Hai, Sultan and Bharat, Director Ali Abbas Zafar's foray into digital entertainment is a nine-part political potboiler.
Tandav is as mainstream and contrived as it gets, but not completely without its moments of charisma and drama.
Election results are just around the corner and a sure shot prime minister (Tigmanshu Dhulia) is poised to return for another term at the office even as his son (Saif Ali Khan), companion (Dimple Kapadia) and close aide (Kumud Mishra) harbour a secret dream of doing the same one day.
Farmers in the country are holding protests, cops (Rajiv Gupta) are doing everything to cover up for their political master's misdeeds and bunch of college activists (Mohammed Zeeshan Ayyub, Kritika Kamra) and their teachers (Dino Morea) are dealing with their own secrets and strategies.
Even as the musical chairs for ministry portfolios kicks in, right hand men and women (Sunil Grover, Gauhar Khan) of powerful people on top do their bit of damage control.
Through its course of 20 to 30-something episodes, writer Gaurav Solanki (Article 15) looks at the pursuit of power from a point of extraordinary cynicism where playing puppet master is as momentous as occupying the hot seat.
As cookie cut these worshippers of despotism are, there is wicked relish in watching some of our finest actors demonstrate their greys increasingly succumb to the dark side.
Fashioning real events and rising threats to a nation's democracy in Imperial Rome style conspiracies and betrayals with a dash of Shakespearean guilt and sprinkle of Chanakya's exemplary statesmanship, Zafar's desi Game of Thrones openly derides the dynastic politics of the Gandhis ('Ek ghamandi aurat ko yeh batane aaya tha ke yeh desh uske baap ka nahi hai') while slyly condemning the ideology of its opponents.
To introduce a climate of unrest and chaos around its skewed left and right inclinations, Tandav uses the woes of farmers and azaadi-chanting student bodies (JNU becomes VNU), hints at the malpractices of the medical fraternity and media and leafs through everything from minorities, misogyny, Kashmir, islamophobia, Dalits, Delhi cops, IT cells, social media propaganda, daddy issues and adultery.
Most of it is lazy tokenism to lend the posturing and proceedings an aura of authenticity every time impeccably (over)styled protagonists and their aides plot, arm-twist, negotiate and deceive each other for the sake of 'rajneeti'.
Prakash Jha has told quite a few stories in this space, most notably Rajneeti, where he blends the emotional arc and injustices within the Mahabharat around contemporary scenarios.
In comparison, Tandav sorely lacks in feeling.
Bleak is fine, but there is never any attempt to explain why all the characters are so uniformly dysfunctional and bitter.
Broadly categorising everyone under 'thirst for power' is staggeringly reductive.
It s to the credit of its ensemble cast that you remain glued to your screens.
Saif Ali Khan slips into the persona expected out of him before his ever-changing audience -- ministers or media.
His character seldom lets his guard down whether he is eating humble pie or seething in anger.
Saif has his finger on both -- role play and rage.
Watching him cross swords with Dimple Kapadia is one of the few pleasures of Tandav.
Of course, the latter outshines everything as the lioness wanting her share.
Apart from Saif, she has several lovely moments with the two other sharp, sassy ladies on board -- Gauahar Khan and Shonali Nagrani (interestingly both are former Bigg Boss contestants) as they chart the course of their political future on their own terms.
Mohammed Zeeshan Ayyub, quite vocal in his personal politics, is a natural fit for the fiery idealism his Kanhaiya Kumar-reminiscent young gun is meant to convey.
Kritika Kamra's blend of disquiet and restraint overcomes the sketchiness of her character.
Sunil Grover's chilly, deadpan reserve is befitting of the menace he exudes but there is more to him than Tandav is ready to divulge in the first season.
Kumud Mishra's veteran politician is presumably modelled along the lines of L K Advani, and the actor shows his mettle yet again while Tigmanshu Dhulia, Anoop Soni, Sandhya Mridul, Dino Morea and Sarah Jane Dias do well in their own individual capacity.
When the terribly expository dialogues aren't spoon feeding us or closing in on a character's devious smile in case we didn't catch on his/her intention, many a clumsy elements tend to bring down the good work of its actors a notch or two.
Like what's with that odd baba on TV spewing gyaan on 'creation and procreation' in a creepy voice?
There is also the matter of a teacher and his student frequently making out in the library.
Julius Packham's background score is woeful and clueless in how it kills the impact of crucial scenes with its droning presence and needless interjections.
Clocking at nearly six hours, Tandav doesn't end on a note of closure.
It builds so much around it by way of deception and ambiguity where an undisclosed identity at the helm of all the ensuing mischief and a 'We all have our curses' brand of statement in response to the many Whys that may arise in our mind, points out at the inevitability of Season two.
Tandav streams on Amazon Prime Video.
Rediff Rating: