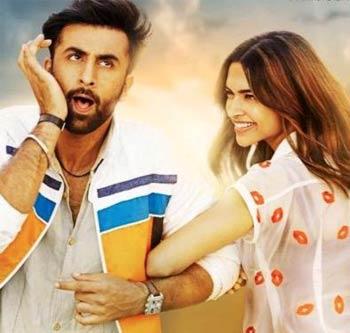 There are no real people in Tamasha -- there are only character-types written in little pink balloon-letters, all floating in cloudland, feels Sreehari Nair.
The experience of watching Tamasha presents a profound paradox: the supposedly fun bits in the movie are the driest and the driest bits are the most fun.
Sometime before intermission, Ranbir Kapoor's character Ved arrives at Deepika Padukone's doorstep to pick her up for a date. This is the moment Deepika's Tara has been waiting for.
'You look great,' he tells her.
'Really?' she asks. (It's the kind of question a woman asks when she loves a compliment but is still fishing)
'Oh yes, sure,' he answers appropriately.
The hurt is complete.
It's a wonderful moment and the series of sequences that follow are probably -- dare I say this -- the finest from director Imtiaz Ali's oeuvre. Like watching an assembly-line soaked in sweat and blood, we see the once-bohemian, twinkly-eyed Ved turned into a clockwork version of his past self.
What Ali wants to convey here is the man's fall from his own grace but he never socks his point home; instead choosing to glide over the scenes. And the effect is terrific. We see a part of our own dreariness in this man's life -- dreariness, which we sometimes conveniently refer to as 'schedule'.
Ved's transformation is doubly painful for Tara because he was once her hero cut out from the personal travelogue pages of her trip to Corsica, her pet by the streamside, and her poet with a randy turn of mind. She is disillusioned at his perfumed castration and now that he is chivalrous, cutesy and says just the right things every time, she misses his rough edges, his random soliloquies and his brazenness.
This, like I said, on a pure plot level, might be driest sections of Tamasha and yet there is a sense of freshness in the way Ali approaches the scenes -- not just in their thematic construction but technically as well with their ends lopped off, thereby injecting an extra pulse in them.
But what really sticks out badly is the rest of the movie where Imtiaz Ali tries to make the story work. Ali's entire career is almost like a set of stories with the same morals and we see the weakest parts of his sensibility on display especially in the Corsica sections -- where we are first introduced to an adult Ved and Tara.
There they meet and decide to play-act their roles (the roles don't matter because it's just too cosmetic) -- almost like the two boys and the girl from Jean-Luc Godard's Band of Outsiders.
However, like Marlon Brando and Maria Schneider from Bernando Bertolucci's Last Tango in Paris, a part of their chemistry stems from covertness -- the code is to keep their real identities a secret from each other.
What these scenes -- so baked in sunshine and in beige, it almost makes you look away -- needed was a sense of randomness and maybe even a sense of danger that I think would have set the base for any sexual tension that may result from the agreement. But for Imtiaz Ali, these are just two kids having fun playing clandestine. Being drawn to each other physically is just happenstance.
Everything looks staged.
Deepika, particularly in this section, is made to play off Ranbir's vaporous energy and those scenes just don't work because you feel like she doesn't have a reservoir that she can call her own.
However, funnily enough, in the scenes later involving her and a close-to-robotic Ranbir, in scenes where there's actually none of the conventional romantic chemistry, you see shades of the Deepika that has emerged over the last two years or so.
You understand that, like Bette Davis, here's an actress who isn't born to cow down.
Also, if I may be deliberately fancy, she looks her best when she is the least made up, the least-lit, at her most arid.
Ranbir Kapoor's Ved, too, isn't a fully-realised character and it's to the actor's credit that he makes it blare out. A master of segues and wild improvisations, it's the digressions from real-life conversations that sends Ved over the rainbow.
In worldly terms, he might just be a crackpot but what Ranbir does so well is decode the poetry that lies beneath all the crackpottery.
Unlike say a Hrithik Roshan, part of why Ranbir Kapoor hits us such an indelible performer is linked to our knowledge that despite being an industry insider, he doesn't mind putting himself out there -- being obscene or uncultured. You get the sense that he knows how people talk at both power-point presentations as well at Ganeshotsav pandals.
Here, Kapoor's gift for physical fluidity at times seems too much for Imtiaz Ali to handle, but thankfully, the actor seems to have created a personal roadmap for the character. The Dev Anand impressions might be clumsily directed but look at the way his lower jaw almost stretches randomly when he says 'Dhoom Dhadam' or when he doesn't feel the need to dust his pants in a state of excitement. Kapoor internalises what is essentially a sketchy character, and plays it loose.
As a kid, Ved is shown to suffer from a complex that so many artists have confessed to suffering from: the inability to separate dreams from reality (Ingmar Bergman has cited this as one of his major problems growing up).
The local fabulador (Piyush Mishra, delivering the mysticism without having to hardly stand up) narrates the most generic of stories and Ved imagines these stories like high-school plays, replete with garish costumes and paper windmills.
The core of Tamasha lies somewhere in these stories but despite what the movie seems to be hammering at -- of keeping the storyteller in you alive -- the truth is Ved the storyteller never becomes an artist by the end of movie. He doesn't discover himself in the stories he has heard and eventually just becomes a re-teller of the same old simplistic, digestible stories of 'Good and Evil' and 'Loving Yourself' and 'Being a Kid Again' -- the kind he grew up listening to.
The thing to note here is that it's exactly these kind of stories around which some our most successful advertising campaigns are also mounted. So another paradox of the movie is that by the end of the movie, Ved the marketer remains a marketer -- just that he is more grimy and less on the nose.
Sadly enough, the essence of the movie, like all Imtiaz Ali movies, is gleaned more from self-help books than the tragic realities around us.
There are a couple of supporting turns that give the picture enough motor even when the proceedings turn repetitive.
Javed Sheikh, as Ved's father, conveys the right kind of rocking-chair dignity and Vivek Mushran, as Ved's boss, alternates between being genuinely oddball and weirdly derivative. It's a classic turn.
It's quite pleasurable to hear Imtiaz Ali talk. In his interviews, Ali often plays down serious questions about the craft of cinema by telling us how it's all collaborative and how he had spent a large part of his early career just conning people into believing that he knew direction.
There's a weird looseness and also some silliness about those bits in his interviews that Ali seems to give up on when he gets behind the camera. His vision through the lens seems too calculated and uptight. He understands dailyspeak quite well but you also feel like he wants his Puritanism to be seen and appreciated. There is the old schoolteachers' approach of telling us that are our lives need to be worthwhile -- which now with every movie, seems old-hack.
I have never quite understood the worship that's showered on Jab We Met (though some scenes do have a buzz) or any of other Imtiaz Ali movies. Like it's the case with all his movies, there are no real people in Tamasha -- there are only character-types written in little pink balloon-letters, all floating in cloudland.
But between all that templatisation, here, Ali, very briefly tries to document darkness without trying to verbalise it. Very briefly, we see an honest film and some three-dimensional characters. The dread in Imtiaz Ali's Tamasha feels real. The silliness, however, comes across as too orchestrated.
Rediff Rating: