This Web series is more about wine, opium, sex, more sex, gay love and incest, rues Syed Firdaus Ashraf.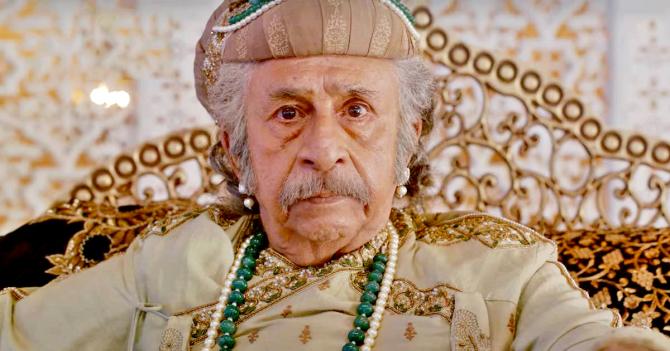 The Janissaries were members of an elite corps of the Ottoman army, the first to lay down their lives in war.
The Janissaries were recruited from the Christian Balkan province as children, converted to Islam and put into service for the Ottoman empire that ruled from modern day Turkey.
At its zenith, the empire's boundaries extended from Austria to Algeria and from the present day Persian Gulf to Yemen.
For these Janissaries, 'Empire Before Brood' was a way of life.
ZEE5's Taj: Divided By Blood claims that Mughal rule in India was established on the same lines with the help of the Rajputs who acted as the Mughals' janissaries.
No less than Man Singh, Akbar's trusted military commander, is ready to sacrifice his son Durjan for the sake of the Mughal empire.
When his sister Man Bai, the later emperor Jehangir's wife, asks Man Singh how he could hang his son, Man Singh curtly responds, "He is my emperor and he always will be."
In Taj: Divided By Blood, Akbar is a disillusioned old man hallucinating and awaiting death. He is unable to solve the domestic squabbles between his three wives and his three sons.
The sons -- Prince Salim, Prince Danyal and Prince Murad -- try to outdo each other to claim the throne and Akbar is unsure whom to hand over the reins of the empire.
The plot only provides glimpses of Akbar's reign, but goes off on different tangents, far away from history.
This Web series is more about wine, opium, sex, more sex, gay love and incest.
Yes, you read that right: Incest.
The makers of Taj: Divided By Blood are perhaps sure that no one will raise a shindig for showing the Mughals indulging in incest, not in Amrit Kaal India.
Naseeruddin Shah, who plays Akbar, looks thoroughly disinterested as if he is only playing the part for a hefty fee.
Rahul Bose is a complete misfit playing the jihadi Mirza Muhammad Hakim South Mumbai style.
Aditi Rao Hydari as Anarkali looks lost and is unconvincing in her love for Salim.
Sandhya Mridul as Jodhabai is miscast and so is Zarina Wahab as Salima Begum, one of Akbar's wives.
Aashim Gulati as Salim does more of dancing like a drunkard than acting like one.
The only redeeming actor is Taha Shah Basussha as Murad, who gets into character and delivers a mind blowing performance that keeps you hooked.
A ray of hope arises in one of the episodes when Akbar speaks of his new religion, Din-i-Ilahi (Divine Faith) based on humanity.
'No one religion can claim supremacy over God and creation. This is the first rule of Din-i-Ilahi,' the emperor proclaims.
Here too, the script writers fail in their research because in his lifetime Akbar could only convince 17 people to convert to his new religion, Din-i-Ilahi.
In one of the final episodes after falling in Salim's arms, Anarkali tells the prince, 'Some love stories should never have begun.'
One wishes the makers of Taj had not begun with their story.
Taj: Divided By Blood streams on ZEE5.
Taj: Divided By Blood Review Rediff Rating: