'In this age of OTT, where you are overdosed on content with violence, crime, sex and lust, this love story is refreshing,' notes Divya Nair.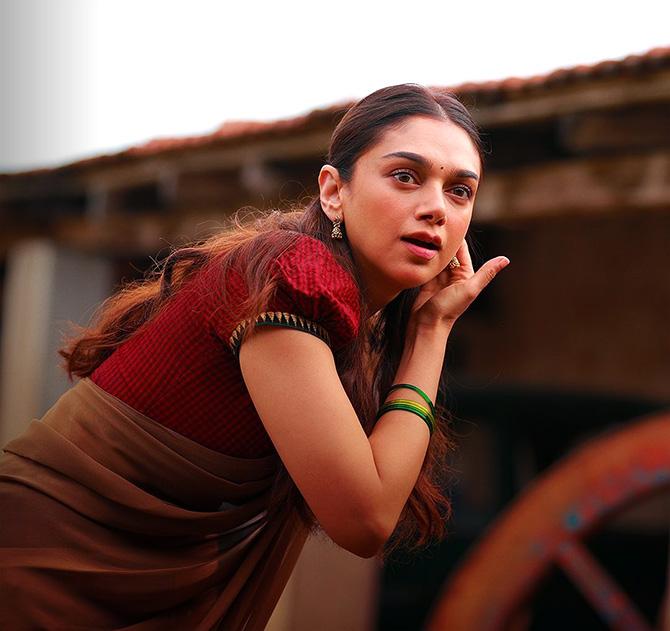 There wasn't a lot of excitement about the first Malayalam film to be released on the OTT platform.
Neither the star cast nor the plot seemed interesting from the trailer.
It has been a really long time since I watched Jayasuriya in a promising role.
Aditi Rao Hydari, likewise, has not delivered anything significant after Kaatru Veliyidai. I didn't even want to think about her last Tamil film Pyscho, which took me days to recover from.
I was careful to watch Vijay Babu's latest production without any prejudice.
Directed by Naranipuzha Shanavas, the film is set in an unknown village along the Kerala-Karnataka border where people follow different religions and cultures, but mostly Hinduism and Islam.
From the first frame where Sufi (Dev Mohan) -- spiritual figure and dervish -- walks into the shrine after a 10 year-long expedition, you are made to believe that this is a poignant musical involving two people: Sufi and Sujata (Aditi).
There is no suspense here. The film opens with Sufi's demise after morning prayers.
Call it true love or telepathy, miles away, Sujatha, a mute dancer now married to Dr Rajeev (Jayasurya) in Dubai, wakes up to a nightmare where the dervish falls with a thud while twirling.
Rajeev is informed by a friend over the phone that "Sujatha's Sufi" has passed away and that he has to pass on the message to his wife.
Next, a visibly upset and insecure Rajeev agrees to leave their daughter behind at a friend's home to travel to Kerala so Sujatha can see Sufi one last time.
We are told the story of how Sujata and Sufi met and fell in love through art and music through flashbacks.
She is disabled and he is the master of all arts.
Their religions are not the same.
She is a commoner. He is meant to be a saint.
Traditionally, their journeys are different. But their paths collide.
And despite their opposing cultures and beliefs, both are ready to take the plunge.
There is something enigmatic about this forbidden love that lures you in a poetic way. You can see that in the ways their eyes express their fondness for each other.
In this age of OTT, where you are overdosed on content with violence, crime, sex and lust, this love story is refreshing.
They speak the language of love.
Love that transcends religion, borders.
But like all stories, the villain is a conservative society that almost instantly paints it as love jihad.
Unfortunately, there is no explanation. No depth to the theory.
The two are separated by a choice made by society which they simply adhere to.
There was a lot of potential in the plot that could have been explored -- the longing, the pain of separation, why and how Sujatha chose Rajeev, what happened after she married Rajeev, where did Sufi go... and so on.
Instead, we end up like a thirsty audience who will have to settle for just a few drops of water that barely quench the thirst.
Just like Rajeev complains, we don't get to see Aditi teaching dance to students like her parents insist she does.
As for Dev, he is enchanting in every frame. When you watch him move, he'll send you in a trance.
And his smile has an infectious energy.
In an interview, the debutant actor revealed how he spent nine months trying to master the twirl and almost managed to keep this film a secret while working at an MNC.
His hard work pays off beautifully on screen.
There are some scenes in which Aditi is brilliant, particularly, the one in which she realises her grandmother and confidante has passed away. She takes in every moment of pain in a way that engages you.
M Jayachandran's music is noteworthy and the lyrics are mesmerising.
But truth be told, this is not a love story like Ennu Ninte Moideen that you will carry in your hearts for a long time.
The director does not let you indulge enough in their journeys and spends an awful lot of time trying to convince you there is something bigger until you begin to lose interest.
As for individual performances, all actors are excellent.
Jayasurya does a splendid job as a jealous husband who is frustrated and at the same time, helpless about what to make of his wife. But like the viewer, he doesn't get to validate his story or cause of unhappiness.
Siddique is the typical tamburaan whose love for his daughter's bright future blinds his emotions -- he brings out the rage, anguish and authority in the most natural way.
Despite the perfect casting -- not to forget the beautiful music -- here's a story we have heard a zillion times before with nothing credible to offer.
Rediff Rating: