'Student of the Year 2 has no spunk, no plot and zero charisma,' sighs Sukanya Verma.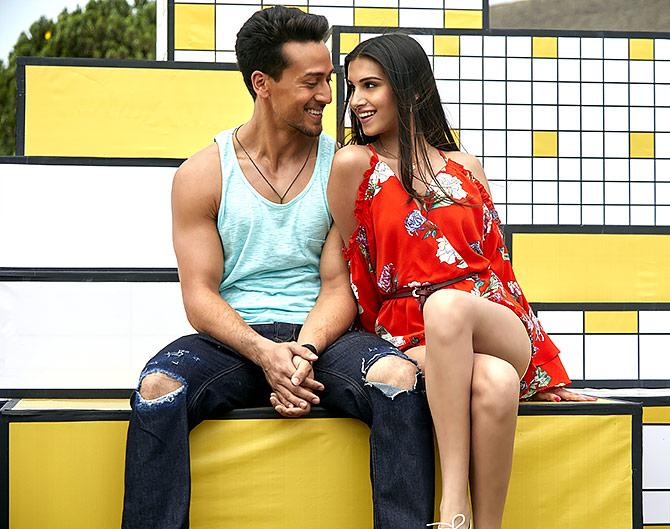 College was never about receiving education in Bollywood movies. If anything, they urged us to play along and lap up the ensuing frivolity.
With Student of the Year, which came out some seven years ago, Director Karan Johar waved his fancy schmancy wand on the campus caper and transformed it into an extravagant scene for all-you-can-consume romance, rivalry and fashion around gourmet cafeterias, state-of-art classrooms and academic tournaments involving disco dancing and treasure hunts.
Despite its over-the-top disposition, Student of the Year revelled in its shallow pageantry and the charm of Alia Bhatt, Varun Dhawan and Sidharth Malhotra's eager-to-please fresh faces.
Dharma's brand-new batch, directed by Punit Malhotra is decidedly in lesser hands.
Student of the Year 2 has no spunk, no plot and zero charisma.
What it has is the nerve to impersonate the snobs versus dorks enmity driving Jo Jeeta Wohi Sikandar's class politics. Except it's too moronic to merit any comparison.
In this preening, plastic attempt to keep going the Student franchise, St Teresa's upscale lot finds a challenger in an acrobatic undergrad of Pishorilal Chamandas.
Monkeys and mannequins inhabit its strikingly unnatural world. You'll spot more spandex than schoolbooks. Between frames swarmed by sports jocks and cheerleaders, the college dress code seems to be divided between Florida Barbie and Beach Ken.
Teachers and principals, hard to tell who's who considering its pure tokenism, of both institutions (Sameer Soni, Manoj Pahwa) behave like stand-up comics and radio jockeys of rejected auditions. One might occasionally spot a parent doling out gyaan or grumpy looks in scenes that seem as contrived as the reasons to squeeze in banal song after another.
Student of the Year 2 may have a decent budget, but it sure wasn't spent on creativity.
The pace is wobbly. The plot is trite. The humour -- The Flying Jatt, Krrish jokes show some fleeting potential -- falls flat. And the opulence is clumsily conveyed.
One kid acts all swish and pricey, but her dad is written like a man on the streets growling, 'Abbe tu?' at her classmate.
Even more jarring than its caricaturing is its phony attempt to represent sexuality. Gul Panag (wasted) plays a lesbian college coach whose companion puts an end to a student's inappropriate brawn show saying, 'Ma'am ki Ma'am.'
Blame it all on Rohan (Tiger Shroff) who seeks an admission in Dehradhun's most posh college to woo his school-wala love, Mridula aka Mia (Tara Sutaria). She hails from the modest side of town, but her father has a couple of petrol pumps to afford Teresa's astronomical fee.
Mia shares a 'kind of pyaar' for her puppy-eyed childhood pal who flips and leaps atop roofs and across stairs, gets her name inked on his wrist and attends superhero-themed parties thrown by rich brats as Spiderman.
After this wealthy highbrow (Aditya Seal) and his less Dennis more menace sister (Ananya Pandey) create mandatory hurdles for our hero follows a bit of lacklustre forgive-and-fight back leading up to a inter-school kabbadi tournament that will decide who wins the Dignity cup and Student of the Year title.
One fourths of the movie is the most tedious depiction of kabaddi and watching two dozen boys, their bulging biceps and inflated torsos in super tight sportswear.
Newcomer Ananya Panday has a zappy energy, although she looks like she's stepped straight out of la la land. Her Hindi sounds like it was lying on the shelf all these years and gathering dust. But at least her ineptitude is worth noting.
Fellow newbie Tara Sutaria's gold-digger act is the most vapid, manipulation has ever looked on big screen. Aditya Seal smirks so much, I wont be surprised if he had to place ice packs on his cheek post shoot.
Tiger Shroff seems a tad jaded for the part, but is better off than his lacklustre co-stars when his performance isn't screaming 'I work out.'
Alia Bhatt's senseless song appearance in the end credits and Will Smith unimaginatively popping up to shake a leg in the Jawani remix is what waste of resources looks like.
Knowledge is wealth goes St Teresa's motto. Disregarding it seems to be Student of the Year 2's dharma.
Rediff Rating: