Squad drags from scene to scene like a lifeless sloth with no destination in mind, sighs Sukanya Verma.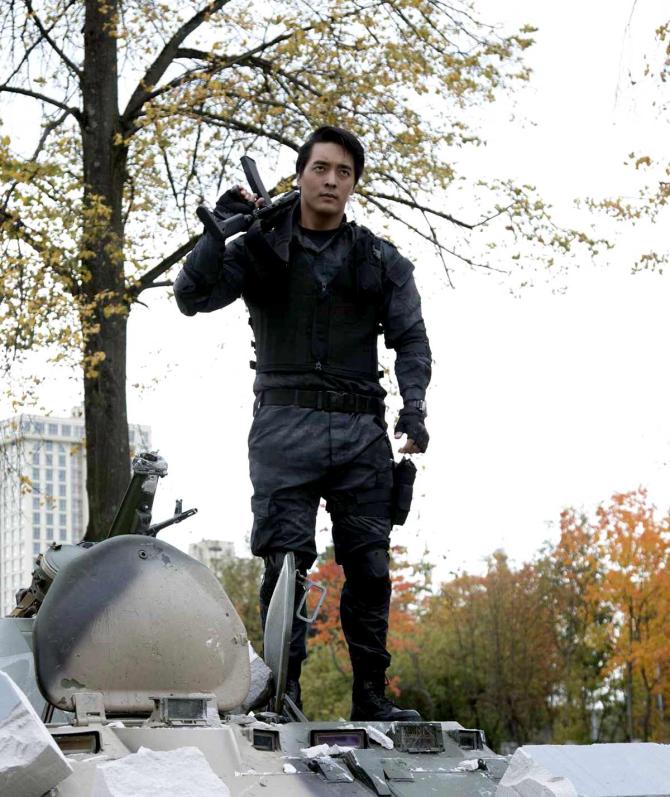 Between traveling from Georgia and Minsk, battling Herzegovinian soldiers and radicals in Pakistan occupied Kashmir, recalling flashbacks of the time cyborgs took on Naxals, tossing in a fictionalised avatar of the Indian prime minister and saving a clueless, knee-high Hindustan ki beti, Squad is a big dumb movie that bites more than it can chew. What's more? It makes Baaghi 3 look good.
Nondescript in entirety, Squad drags from scene to scene like a lifeless sloth with no destination in mind. Forget the dated plot and portrayal, an overwhelming sense of dullness and inaptitude clouds this hogwash from start to finish.
One would presume industry children share a better understanding of the medium and its basics having grown up in that world but this launchpad project only reiterates how exaggerated legacy can be. Directed by Nilesh Zaheeda Sahay, yesteryear actress Zaheeda's son and Sanjay Dutt's nephew, Squad marks the debut of Danny Denzongpa's son Rinzing and Anita Raaj's niece, Malvika. The latter played young Poo in Kabhi Khushi Kabhie Gham.
This two hour-long ludicrous, laughable affair opens with Rinzing's Bhim Rana, a special forces commando single-handedly blasting off a terrorist base mouthing once corny jingoism now political party catch phrases like, 'Hum Hindustan hain. Bolenge nahi seedhe todenge.' But an unexpected casualty leaves him guilt-ridden enough to abandon his post.
A window for redemption opens, Sonchiriya style, after a part human, part android inventor's granddaughter is abducted and Pooja Batra's National Security smarty-pants puts together a ragtag team of gunned goondas to come to desh ki beti's rescue.
Filmed sans any vision or technique in Belarus, which is passed off as a good number of countries, Squad travels back and forth faster than one can in a local from Khar to Borivali.
Between Batra's conspiring colleague, played by a jumpy Mohan Kapur, bullets and bombs exploding and a crowd of unenthusiastic soldiers popping up at regular intervals, a bunch of random boys and girls hanging out in the frames to justify the title, Squad deludes you into believing a romance has blossomed between Rinzing and Malvika even as Rinzing and desh ki beti form a Mandalorian-Baby Yoda like bond.
It's all bogus. Rinzing's reaction or complete lack of it on seeing Malvika alive and kicking after a potential calamity is the only time I felt a genuine tickle in my bone. Emotion of any kind is too much to expect in tripe that boasts of writing like, 'Tera munh todne mein mera ek rupya kharch nahi hoga aur mujhe free ki cheezein todne bahut pasand hai.' Not to mention all the canine slurs the She-hulks throw at each other.
Whatever little imagination or fun Squad promises in the form of the superhuman mention, alas, never goes beyond a tacky CGI gimmick.
This is too terrible a movie to judge its newcomers by. For what it is, Malvika sticks to dancing and aiming a gun while out and about in her skinny jeans and salon hair. Rinsing is a big, bulky presence, but his Robocop approach only highlights everything that is stiff, silly and senseless about Squad.
Squad streams on ZEE5.
Rediff Rating: