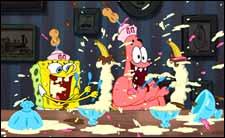 You may want to blame kids for dragging you to The SpongeBob SquarePants Movie. Or pretend you were nudged by nephews and nieces for guardian accompaniment. But you really shouldn't have to apologise for this film, which offers such a guilty pleasure.

You don't have to admit that even without the kids pressurising you, you might have sneaked into a theater and enjoyed the movie silly. For you could be one of the 60 million viewers -- one third of them adults -- who tune in every week to watch SpongeBob on Nickelodeon.

SpongeBob's first big screen adventure is one of the most delightful animated films in a long time. It is not as inspired as The Incredibles and Shrek 2, but is far superior to Shark Tale, and has more life, vitality and ingenuity than Polar Express.

The movie is often sophisticated and, when the need arises, not ashamed to be silly. On the whole, it is a through-the-roof entertaining experience!


A
fine buddy film that celebrates courage, it also has plenty of comedy and misadventures. The movie speaks to kids of all ages: its two lead characters go on a quest that often looks beyond their capabilities, wavering between bravado and reluctance, just as adults do when they weigh the possibilities of doing something big, and out of the way.
And then there's always an air of innocence in whatever SpongeBob and his sidekick do, even when irreverent. In an age of cynicism and fear, their carefree innocence certainly appeals to many adults.  

One often gets suspicious of films credited to more than two writers, but SpongeBob is an exception to the rule of too many cooks muddying the kitchen sink.
At 90 minutes, it does feel a bit too long. The transition from a 10-minute cartoon to a feature film is thus occasionally bumpy, but in the final reckoning, this is an admirable movie.

SpongeBob SquarePants (Tom Kenny) is an optimistic, free-spirited sponge born in a rectangular shape. He is also known as the underwater world's most blissful innocent. Living at the bottom of the sea, in a pineapple, in the community of Bikini Bottom, he works as a fry cook at the Krusty Krab diner, where his friends include Squidward the squid and Patrick the starfish.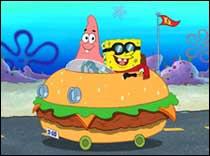 Squeaky-voiced SpongeBob has been hoping to be named manager of a second Krusty Krab restaurant, but owner Mr Krabs is more impressed by Squidward.

When scheming Plankton (Doug Lawrence) hatches a plan that will lead the customers from the Krusty Krab into his own Chum Bucket, SpongeBob and his pink buddy Patrick (Bill Fagerbakke) will have to do something.

Plankton has stolen the crown of King Neptune (Jeffrey Tambor) and framed Mr Krabs. Plankton has also stolen the Krusty Krab secret recipe for his own restaurant.

Despite Mr Krabs having disappointed him, SpongeBob wants to help him retain the business.

He offers to undertake the long and perilous journey to Shell City to recover the crown, with the help of Patrick. Eventually, he will also get the encouragement of the king's daughter, Princess Mindy the Mermaid (Scarlett Johansson). Obstacles include a murderous biker (Alec Baldwin) and a diver who dries out SpongeBob and Patrick. Not to forget, the obvious scary sea monsters.

Ultimately, as our hero and his sidekick triumph, the comedic fable has fully drawn the viewers into a coming of age story that celebrates, among many values, innocence.
Apart from fun-filled adventure, plenty of colour and humour, the film also has many catchy numbers from the likes of Wilco (Just a kid) and Avril Lavigne.