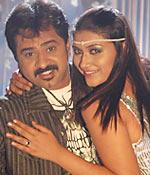 Kannada romantic comedy Krishna Nee Lateag Baro is an offering from first time director, Mohan. This film comes sans a long storyline and wishes to tickle your funny bone through its characters Krishna (Ramesh Arvind), Sundaram Pillai (Mohan), Sumitra Andal (Neethu) and Lakshmi (Nidhi).
Krishna in this film, in contradiction to his name, is anti-women. He is a Maths lecturer working at a women's college, with quite a fan following among his students and principal.
His relative Lakshmi is also a strong contender for his love. But Krishna spurns all their advances due to his belief in Chakocha Swami, who propagates the "woman- free life is a stress-free life" theory (It is likely that you'll be reminded of the controversial Swami Nityananda at one stage).
The other track in the film revolves around Andal and a Malayali fashion photographer Sundaram. Sumitra lives two lives, one of a sari-clad Iyengar ponnu and the other as a hip and happening Andy (short for Andal). The kabab mein haddi in their love story is Mukunda, a feminine Iyengari singer. This story is shown as a narration that takes place between King Vikramaditya and Betala.    
Each character has his/her own shortcomings and this adds to the humour element.
Mohan and Ramesh deliver convincing performances. Neethu, who appears relatively slimmer (except in one song) is seen in short glamorous clothes. Nidhi has taken a detour from her glamorous image. While she is funny in a recreated scene from Rajkumar starrer Eradu Kanasu, her connection with trains and a popular Kannada song, shivappa kayotande, is a little hard to digest. TV artiste Sundar has handled his role as Mukunda well. Dattana, who plays a staunch Iyangari also makes you laugh.
Amir Khan's films seem to be popular with the Kannada industry for if comedy scenes in a recent release were pegged on the Lagaan cricket team, "Inspector Ghajini" is what we have this time. The inspector writes his cases all over his body due to his short term memory! Tennis Krishna plays this not so- funny character.
The climax shot in a swimming pool with all the lead actors and the idea of a 'package couple' however, lighten up your mood.
Praveen Godkhindi mixes classical and popular music well in his first Kannada commercial film outing. Flute dominates the tracks. Yaryaru Yaryarig... is a track that will linger on for a while. 
Dialogues, also by Mohan, make you laugh only at places. Given his calibre, he could have surely come up with wittier dialogues and situations. Also, a repeat of a few scenes involving Krishna and his students could have been done away with.
Rediff Rating: