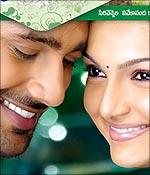 Radhikha Rajamani reviews the Telugu film, Happy Happy ga.
Debutant Priya Saran spins another romantic tale in the Telugu film, Happy Happy ga, a triangular love story with a slightly different touch, but that's about it all.
It doesn't have enough steam to sail through smoothly despite Varun Sandesh's effort to pull it off, Vega's slightly glamorous role and Saranya Mohan's pleasant performance.
The movie begins with the hero Santosh (Varun Sandesh) dreaming of rejecting flowers and proposals from girls. But in reality he wants to fall in love and keeps looking out for girls. True to his name, Santosh tries to spread happiness and cheer among the young and old through his gang of friends by distributing flowers, cards etc.
Enters Pooja D'souza (Vega) in his life. While our dear hero falls for her, she doesn't believe in love as she's seen the love marriage of her parents ending in divorce. Santosh is deeply in love with her but doesn't admit it to her as he's scared she may not accept it.
One day, at her insistence, on knowing whom he loves, he points at a girl wearing a white salwar kameez. Pooja tracks the girl who is Priya (Saranya Mohan), the sister of the dreaded don Suri (Saikumar). Pooja tries to unite these two. Against this love backdrop, there are two others -- Ali and Suri -- gunning for Santosh for various reasons. Now you can imagine what will happen in this scenario.
The only good thing about the movie is the slightly offbeat ending. Normally Telugu films do not have such endings. Otherwise the story is a 'comedy of errors' with Ali and Suri's henchmen pursuing Santosh in the first half of the film. But the emotional quotient goes up in the second half.
The numerous songs (only a few are sonorous to the ear) are a distraction. Mani Sharmaa's music dominates or rather overpowers (as there are numerous songs) though the orchestration and background are both good.
Venky A Darshan's camera work is one of the strong points of the film. He has captured Visakhapatnam and its environs (particularly the sea) beautifully.
Director Priya Saran tries to trek a different path but doesn't really go to the fullest extent.
Varun Sandesh is probably the only reason to watch the film to some extent. He tries to put in an earnest performance but can't do much given the shallowness of the script. Varun is carefree, casual in the first half, and serious and sentimental in the second. He portrays all these emotions with conviction.
Vega carries off western outfits well and induces the glam element in the film. However, as an actor, she could do well to improve her emotions.
Saranya Mohan has an expressive face and a girl-next-door look so she can carry off roles such as Priya's very easily and naturally.
Saikumar does not look menacing but he is more of a friendly 'don'. Ali hogs quite a bit of screen time with his comedian act.
All in all, Happy Happy ga has a slightly dfferent ending. Other than that, it is a usual love story.
Rediff Rating: