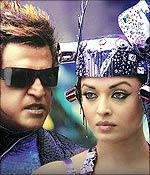 Pavithra Srinivasan reviews the Tamil movie Endhiran.

Dozens of directors claim that they have the commercial formula down pat but none can be compared to Shankar who belongs to the rare breed of film-makers who can actually combine a genre like science-fiction with spicy masala quotient.

Sun Pictures' Endhiran (Robot in Hindi), starring superstar Rajnikanth and Aishwarya Rai Bachchan in Shankar's tenth effort has been raising anticipation sky-high for months, with its special effects and novel script. Aside from being the most anticipated movie of the year, it stars two of India's most iconic actors, and is also the most expensive Indian film to date. The surprising part? It actually does work.

The story is simplicity itself: Dr Vaseegaran, (Rajnikanth), robotics expert, works on a complicated project, designing an android-humanoid meant to help the Indian Army. So absorbed is he in his work that he misses all the calls, smses and emails from his beloved, Sana (Aishwarya Rai Bachchan).

His efforts pay off when the robot, Chitti, is finally unveiled at a International Robotics Conference 2009. Chitti can work wonders armed as he is with almost unlimited super-powers and an ability to process information at light-speed (not to mention every singing and dancing skills on Earth). Dr Vaseegaran's work gets unanimous applause from all except one: Dr Bohra (Danny Denzongpa), his erstwhile mentor and currently jealous scientist whose attempts at creating a robot failed spectacularly. He also happens to head the AIRD (Artificial Intelligence Research and Development), which must, eventually approve Chitti.

There are hilarious scenes as Chitti is first brought out into the open for "testing", so to speak. His adventures in interacting with the human race are a poignant mixture of quirkiness and naivete, leading to quite a few amusing results. Sana is fascinated with him and teaches him an inadvertent lesson in human nature but the real clincher arrives when Vaseegaran, dejected with the rejection of Chitti as a robot, decides to give him a hormone simulation package (and thereby emotions). And then all hell and heaven break loose for everyone, literally and metaphorically.

If you were expecting a regulatar Rajni movie with cyclone winds and an introduction song, you do get them, but not in the way it's usually done.

Shankar the director re-claims his place as helmsman. Here, the story comes first and the characters come into their own later. Science fiction, as a genre, finally gets some place where plenty of technical terms are bandied about (courtesy Sujatha) but none are so puzzling that they leave you confused.

After a long time, you get to see a Rajni who's genuinely stylish and who's had a ball playing three different characters. As the brainy Vaseegaran he wears a French-beard, looks knowledgeable and literally runs away from violence (a very nice touch), but as Chitti, he walks away with considerable applause. His innocence when encountering the human nature to lie; his absolute ecstasy when he first discovers love, and his later fury are fascinating to watch. And there are plenty of song and dance sequences to exhibit those talents as well.

Aishwarya is bold, beautiful, feisty in certain song sequences and melting damsel in others. It's a role that requires her to be more arm-candy than fiery actress, but since a good deal of the movie depends on her bewitching beauty, she fits the role better than anyone else. Wonder of wonders, she even appears throughout the film, instead of in bits and pieces.

Santhanam and Karunaas appear in rather silly roles that seem to have no relevance. In fact, Rajni is such a competent comedian that they pale in comparison. Danny Denzongpa looks distinguished and is every inch the intelligent scientist with an axe to grind. The only grouse is his dubbing where the lip-synching goes hay-wire. The rest appear in blink-and-miss roles.

Here is also where Shankar distinguishes himself as someone who understands star-power and the means to manipulate it: all through the first half, the pace is steady, making use of its star-players' charisma appropriately and unleashing it at others (the train sequence is an example).

The second half is something else altogether: it's a non-stop roller-coaster of action, exploding cars and robot-snakes. The SFX team has gone to town and used their wherewithal in bringing science fiction to life.

Rathnavelu's camera-work is at its best during the song sequences, especially Kadhal Anukkal and Arima Arima. It's swift, clean and precise. Sabu Cyril has gone all out in the art-work and you see the result in Vaseegaran's office and the AIRD premises, which positively glow with futuristic air.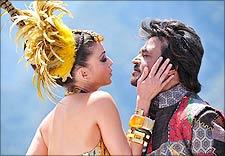 Peter Hain's stunt sequences mimic the swiftness needed for a robot, and make it look convincing. The dance choreographers and costume designers deserve kudos. Antony's editing, while competent at most points, could have been used to better effect; the latter half drags a bit. The film itself clocks close to three hours.
A R Rahman's tunes have already become chart-busters; he proves his mastery over the background score too: the instrumental music of Puthiya Manitha is used to much dramatic effect.
All said and done, this is a Shankar film where he strikes the balance between science fiction and masala quotient. The presence of a concrete story also helps. But Shankar's intelligence lies in giving Rajni super-powers and explaining it convincingly. Yes, there are a few sequences that are silly, but he remains in command for most of the film and actually has brought out the best of Rajni: the quirkiness, flair for comedy, incredible action and the ability to laugh at himself.
Whichever way you look at it, Endhiran is one of those rare films that give you just enough material to pull you in, and enjoy yourself. Just go and have a blast.
Also Read: Krishnakumar Padmanabhan gives Robot 4 stars.
Rediff Rating: