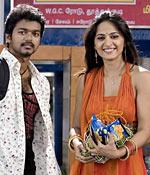 After three consecutive duds like Azhagiya Thamizh Magan, Kuruvi and Villu, Ilaya Thalapathi Vijay has his hopes riding high on AVM's Tamil movie Vettaikkaran (Hunter). The name is borrowed, as usual, from a yesteryear MGR flick.
Directed by B Babusivan, the film promises to have the usual quota of everything that goes to make a Vijay commercial entertainer, including Vijay Antony, the "in" music director.
Certainly, the promo booklet that accompanies the CD has enough evidence, with its scribbled sweet-nothings, random notes and the phrase "hit songs of the year" inscribed in every page. Here's a look at what the album has to offer:
Puli Urumudhu is just the kind of song you'd expect in a superhero-centric movie like this one: Ananthu and Mahesh Vinayakram sing their hearts out to Kabilan's lyrics, heralding the return of the hunter, upon which tigers scream, evil-doers shiver in their tracks and the common public cheers for joy.
The beat is folksy, the pace is steady, and the melody itself is typically kuthu, with all its attendant "tangarru" sounds. In between jumps in Asathoma Sathgamaya, a random Buddhist chant -- presumably to reinforce the fact that our hero is as much a peace-lover as a warrior. A run-of-the-mill number.
A big boom kicks off Chinna Thamarai. This one, thankfully, is of a different feel. A burst of rap later sung by Bone Killer in English and Dinesh Kanagarathinam in Tamil and it's back to Krish and Suchithra, rendering a mildly angsty romantic number.
It has shades of random Telugu songs, especially in the beginning, with its piano notes, and charanam. Still, Vivega's lyrics are sufficiently catchy, and even if some parts are constrained, there's enough appeal in the number to make you want to jive. It should have a lot more effect if its picturisation adds to it.
An almost operatic instrumental arrangement begins Naan Adicha, which gives this number a very unique feel until Shankar Mahadevan begins the vocals with promises to thrash villains until kingdom come, and its all back to normal again.
Kabilan's lyrics leave you in no doubt about the hero's message: make every school an Oxford, while at the same time, you're supposed to support your native tongue. Paradoxes aside, this one is yet another kuthu song with random English, Hindi, Telugu phrases cropping up, giving you a feel of ancient Rajnikanth chartbusters.
Karigalan begins in a rural fashion, interwoven with a burst of rap, string instruments and a folksy beat, while Surchith and Sangeetha Rajeshwaran sing about the heroine's beauty. Although how comparing her hair to Karikalan's burnt leg is romantic, isn't very clear!
A medley of classical music winds its way as an interlude, and after the previous kuthu numbers, the tune, at least, is mildly appealing, despite the oft-heard feeling. Kabilan's lyrics, however, leave much to be desired; his analogies are pretty disturbing as he brings burning clouds, chicken heads and drawstring bags into the equation. As a romantic number, it's almost hilarious.
The re-mixed version of Chinna Thamarai is a faster, slicker version of the original, and retains its appeal.
Vijay Antony seems to have inherited Harris Jeyaraj's love of seemingly incomprehensible foreign phrases, and Uchi Mandai, sung by Krishna Iyer, Shobha Sekar, Charulatha Mani and Shakthi Shree is a prime example.
In a song written by Annamalai with extremely colloquial phrases (Ex: "girringuthe, darrunguthe") and silly rhyming lines that only barely make sense, the alien words are almost funny to listen to. The composer's love of Arabian music asserts itself here too, before subsiding into kuthu.
Vijay Antony has fulfilled every pre-requisite of a Vijay movie: the album is replete with kuthu songs, colloquial expressions and a rousing beat whenever possible. And there's one romantic song to alleviate the boredom.
All in all, the collection is no big deal for the quintessential music-lover, but for Vijay fans, there's plenty to celebrate.
Rediff Rating: