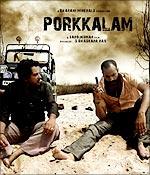 "Kill or Get Killed," shriek the words on the CD of Bharani Mineral's Tamil movie Porkkalam (Battlefield), seemingly a dark film all about the finer points of murder, gargoyles and gleaming swords, complete with Kishore (of Vennila Kabaddi Kuzhu) taking on the villains, while Tinnu Anand gets back to the Tamil screen.
With music composed by Rohit Kulkarni and lyrics by Na Muthukumar, here's a look at what the album has to offer.
A trumpet blows enthusiastically, while Karthik begins Yaaro Ivan Yaaro, his voice flitting in between high notes and low to a blast of synthesized music.
With jazzy instrumental arrangements that remind you of strobe lights and lit-up dance floors, and Caralisa contributing snatches of Italian phrases, the song's all about the mysterious hero/protagonist who's rising up to face his battles, and is a dark horse with hidden talents. The medley of instruments in the second interlude are pleasing -- not much in the lyrics department, though. But other aspects make up for it.
Shaan and Nisha kick off Indha Bhoomiyil, which sounds like a romantic extension of the previous number. Plenty of trumpets here as well, and the guitar segments are neatly done. A sudden violin interlude adds a touch of poignancy. There's a certain slickness in the musical arrangements that speak of expertise, but the music is a little too generic for you to really sink into it, and you can't shake off the club feel to it.
A sudden, ominous blast of percussion and what sounds a lot like ethnic African music reaches you, while KK launches into yet another hero-centric, grand song that shows the earth literally blowing up around his feet in Aran Thiran. The instrumental arrangement matches the mood of the song and you get the feeling you've suddenly been transported to some Amazon forest. If you've heard the theme music of the TV series Beastmaster, then you'll find this familiar.
Unnale commences in a very angsty fashion which tugs at your heart-strings and you're a bit taken aback by S P Charan's very youthful voice. Even as it slips into crash-bang mode, there's a pleasing flute interlude that adds a note of emotion to the proceedings. It's a pity that there's no discernible shift in tune to accommodate so much of vocal or instrumental potential.
"This is the story of a super-hero ..." that's what the tagline to the theme of Porkkalam says, and with Nisha, Candy, Mimosa and Samantha, contributing what seem to be verses (possibly from the Mahabharat), this track promises a good deal of action, thrills and not a little angst.
While technically, you can't really fault the tracks, there's precious little variation in the numbers and you feel like they're all running into one another. Some great touches could have been expanded, but haven't been given much of a chance. Still, worth a listen.
Rediff Rating: