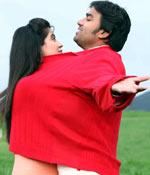 The very name Tamil Padam (Tamil Movie) is evocative. This Cloud Nine Movies' is all about the very fibre of Tamil cinema: the super-size plot and king-size heroes who go about saving the world at the drop of a hat, and a cast that's set to keep the laughs coming.
The audio CD in itself is a good indication of what's to come as Saroja's Shiva, donning the role of the quintessential hero, apes everyone from cowboys to Thillana Mohanambal's Sivaji Ganesan. Finally, someone's come up with what seems to be a decent spoof and with Kannan tuning to Chandru and Thiyaru's lyrics, here's what the album has to offer:
Right when you hear the lines, "Sunamiyin Binamiyae ..." you have a pretty good idea of what comes next. And you're not disappointed when Mukesh and Chorus begin a very enthusiastic rendition of Pacha Manja, singing paeons of the mandatory hero intro song – all magnificently spoofed, of course. Peppered liberally with vadai philosophy, and flowery adjectives enough to choke a horse (and you realize that this sort of stuff really is added to many "star" songs), you have a gala time simply laughing your head off at all the allusions. The tune is simplistic, standard kuthu variety but who cares? This one's a blast.
Up next in the spoof scanner is Oh Maha Zeeya with two words taken from every romantic number made of alien languages (Harris Jeyaraj comes under fire most often, understandably). The effect is so ridiculous (in a good way) that you wonder how singers Hariharan and Swetha Mohan ever got through the number without collapsing into giggles! They seem to have had a great time. Like any self-respecting romantic number, this one too has the requisite humming, instrumental arrangement; even straying into sweetly anguished moments. Try mapping out which words come from which hit numbers and you'll find yourself wanting more.
Kuthu Vilakku begins with a very sober veena piece. Before you begin to wonder if this one is going to be serious, it soon descends into the mandatory romantic kuthu where you can envision some sensuous item girl dancing. This one's not quite so laughter-inducing, perhaps because it really does adhere to the kuthu rules with its folksy beat and steady pace but it fits in, after a few moments.
Lately, it's been the trend for Shankar Mahadevan to render furiously rousing songs that whip up the spirit of victory in you and Oru Sooravali is no different. It's back to the reign of silliness, as instead of regular encouragement, you have the singer berating you that "summa iruntha sangai oodhi keduthai!" With blasts of synthesized music and crash-banging instruments echoing to the thundering shouts of "Shiva!" you're really spurred into action. Of the funny variety this.
The theme track sounds like something straight of the eighties: electric and bass guitars rule the roost and it feels like you've stepped into the refrain of some Boney M number.
Tamil Padam's album has precious little of musical excellence in it; it's a parody, and its songs give full reign to that spirit. Practically every line is a laugh riot; melody just performs the function of holding the words together and that's enough for an album like this one. Keep your musical instincts away for this one, and just have a blast.
Rediff Rating: