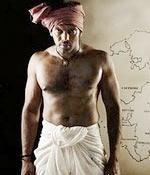 Period films are something of a rarity in Tamil cinema. Director Vijay, who made a name for himself with Kireedam and Poi Solla Porom has taken up an ambitious project: bringing to life the Madras of pre-independence.
AGS Entertainment's Madaraspattinam looks pretty promising, with Arya and Amy Jackson playing the lead, GV Prakash Kumar scoring the music in period fashion, while Na Muthukumar and Andrea Jeremiah share the writing honours between them.
Here's a listen at the album:
Pookal Pookum begins in a typical Hindustan fashion and the lyrics are quite appealing, describing the first bloom of romance. Harini's voice adds beauty to the Hindustani ghazal flavour, while Roop Kumar Ratho's voice completes the experiences. The flute interlude is alluring, and while the song does remind you at times, especially the charanam, of Anandha Thandavam's Kana Kangiren, it has a charm of it own. Interspersed with all this Hindustani goodness is a slice of Western music by Andrea Jeremiah -- reminds you a bit of O Re Chori -- but never mind, its pleasant to the ears. A soothing number.
Udit Narayan's nasal voice does the honours, while V M C Haneefa adds comic flavour to the proceedings in Vaama Duraiyamma. Amy Jackson puts in questions as well. There's precious little to recommend about the tune except for a rather pleasing flute interlude; it's the lyrics that take precedence here. Every local custom is explained from Valluvar, Kambar, the peoples' unity, their capacity for love, hospitality and valour of kings and princes.
Feel of Love begins with a heart-wrenching flute segment; the sound of anklets adds a mysterious allure to it. It slowly morphs into an instrumental medley. Thereafter, the sorrow takes complete precedence. Every note is dripped with anguish.
Meghame Oh Meghame starts off with a sound of thunder, even as M S Viswanathan's voice rises in delighted response. You're surprised to hear actor Vikram's crisp voice share the proceedings. The rhythm is brisk, rustic except for a brief flute segment which suddenly takes you by surprise because it sounds so Irish. The song is backed by various laundry-sounds, donkeys braying and Nasser pitch. There's an impromptu maths lesson involving measures, which is interesting! This number's has a heard-before feel to it, though.
Saindhavi's lone voice begins Aaruyire, while Sonu Nigaam's mellifluous voice takes over almost at once. This number too, is dipped in gentle sorrow, cresting to highs and lows in presumably, anguished love. There's a faint North Indian twang to it, as well, which is suddenly vanquished by a grand Western musical arrangement. Interesting but again, you've heard songs like this before, especially, under the able compositions of A R Rahman. A mitigating factor is the flute segment right at the end.
Like an ominous stroke of disaster crashes Kaatrinile. Hariharan opens the number with all the fury and strength that heralds the victory of love over all obstacles. The instrumental arrangement sounds complex and intriguing, while Zia and Augustin Choir provide a good back-up. The lyrics are particularly rousing and the music takes over when sudden streams of Vande Mataram fill your ears gloriously.
The Irish melody takes full form here, mingled with an Indian medley from Pookal Pookkum, in the dance theme of Madharaspattinam.
Credit must go to G V Prakash for producing a period album without a modern whiff. Some numbers and musical arrangements do give you a sense of deja vu, but on the whole, the experience is sufficiently satisfying in introducing a fairly new world.
Rediff Rating: