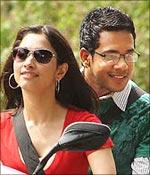 Jab We Met created a wave of unprecedented popularity among movie-goers for its storyline, characters, and its music as well.
This time around, Moserbaer is attempting to re-create Imtiaz Ali's magic into Tamil as Kandein Kadhalai (I've Found Love), with the music scored by Vidhyasagar, and lyrics by poets Yugabharathi and Na Muthukumar. Here's a look at what the album has to offer:
The first line of Suthudu starts off in an intriguing fashion with a cascade of notes in Hariharan's breezy voice. Thereafter, the pacy song settles into a steady rhythm and by the same token, into mediocrity. It's rather old fashioned, and parts of the charanam remind you of old Ilaiyaraja melodies. The colloquial twang to the lyrics lends some charm and while the nadaswaram piece adds some appeal, it's the flute that's obviously the centre-piece. Not scintillating, but still a pleasant listen.
Catchy beats begin Ododo Poraen, rendered in a sufficiently enthusiastic fashion by Rashmi Vijayan and Lavanya, but in the interlude leading to the charanam. It's the orchestration that snags your attention. An appealing segment, though you wish it had been retained throughout the charanam too. It's a light-hearted romantic number whose lilting melody gets your attention a couple of times but that's pretty much it.
Venpanju is a judicious mix of fast-paced rhythms and melody and though rendered in Udit Nayaran's typically nasal voice with lyrics following set patterns, the beat carries you forward. The interlude before the second charanam, with its almost Japanese overtones is appealing and you can see the effort put in to deviate from the beaten track. An appealing number.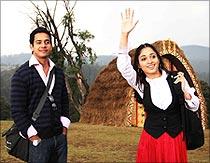 Syrupy flute notes commence Naan Mozhi Arindhaen, a stock romantic number, if ever there was one. With its distinct North Indian flavour, not to mention Suresh Waadkar's accent, this one certainly tries to touch different chords. It's an angsty song and the vocalist's range is certainly refreshing in its execution. Beyond that, perhaps the picturisation will lend more depth.
Kandein Kadhalai is the peppy refrain for this particular rousing number, Oru Naal Iravil -- the first couple of lines borrowed from an old classic -- delivered in dashing fashion by Tippu and Benny Dayal. This one discusses all the charms of the talkative heroine, and is appropriately enthusiastic in its execution. It's meant for dancing your legs off too -- so even if the tune is a familiar one, it still sets you jiving.
When Rahul Nambiyar begins humming his way along Katru Pudithai, you could be forgiven for wondering if you've stumbled on a Kumar Sanu 90's classic but there's where the resemblance ends. This one is a fast-paced song, and the flute interludes blend well, leading swiftly to the charanam. Like most of the previous numbers, set patterns are followed here; slick, well-packaged, but you've heard it all before.
It looks like Vidhyasagar has really tried to produce a set of tunes that veer away from his usual. It works sometimes, at others, the effort seems contrived. Overall, though, the effect isn't too bad. Perhaps the picturisation might introduce new layers to the music. Worth a listen once.
Rediff Rating: