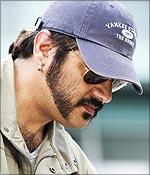 The combination of Ajith, Saran and Bharadwaj has proven a success so far. The trio is back with their latest Tamil movie, Aasal (Real), under the Sivaji Banner. Expectations are high, what with Sameera Reddy and Bhavana joining the team, and "Thala" fans are eagerly expecting a blockbuster from the 'ultimate star'.
So, does the album, with lyrics penned by Vairamuthu, deliver? Read to find out.
Aasal is your typical mass intro song: it has a bunch of ghostly feminine voices intermingling with synthesized music that tingles your ear-drums. It has the mandatory "Thala Pola Varumaa" refrain, a very proper tribute to the star, complete with sultry vocals. With Sunitha Menon providing depth to the musical proceedings, this one does manage to be different in its vocal arrangements.
The pace is catchy, and once you get into the mood of the number, it manages to grab your attention. Sometimes Mission Impossible, sometimes, Bond but possibly, the chart-buster of the album.
Trumpets galore begin Yengay Yengay enthusiastically, and you're instantly taken back to the Bharadwaj of Kadhal Mannan days, when he liked to play with a bazillion instruments all thrumming in your ears at the same time, a la 80s disco music.
It's pretty much the same here and the feeling of deja vu is deepened by the fact that it's SPB who's providing the vocals. Vairamuthu's lyrics drip with anguish about birth, death, life in general and a certain brutal optimism. It could have been better, though.
Like something straight of Kanthaswamy begins Kuthiraikku Theriyum, which is all about a horse knowing who its jockey is going to be. Rendered in appropriately sensuous fashion by Surmukhi and Sri Charan, this one pretty much follows the pseudo-romantic template. This one reminds you quite a bit of Vaali's Nilavaik Konduvaa, it's a nod to those who go in for titillation.
Straight out of the cult classic Pudhiya Paravai's Paartha Gnanabagam Illaiyo comes the refrain for Yae Dushyantha, and true to form, the song borrows liberally from the yesteryear number as well. But here too, Bharadwaj's flair for instrumental arrangements comes in handy.
Surmukhi and Kumaran pitch in for the vocals here as well, and in some weird fashion, the song manages to meld old and new well, finally integrating completely into the latter. Purists might have plenty to say about that but the sax segment in the end does sound pleasant. A different attempt.
Yengay Yengay's remixed version does have a lot more of the angst going for it; perhaps because it's chorus is led by Karthikeyan. There's less of theatrics and more of genuine sorrow here. The harmonium in the background adds a Chaplin-esque feel to the proceedings, and that accentuates the emotions. Not scintillating, perhaps but mildly appealing.
And just when you were wondering where the mandatory kuthu song was, comes Tottadoing, aptly named, and taking a leaf out of one of Bharadwaj's earlier chartbusters, O Podu. Mukesh and Janani join voices to bring one for Ajith's fans, the kind that'll have them jigging in their seats.
Em Thandhai begins mournfully, in an almost statuesque fashion, a rather moving tribute to a father. Apparently a dedication to veteran actor Sivaji himself, it manages to tug at your heart-strings, with a predominance to Bharadwaj's vocals, and the instruments kept to the bare minimum. The violins, right at the finale, are a neat touch as well.
It might be the standard Ajith collection, with all the pandering attributed to stars, but it's also obvious that Bharadwaj has taken pains to deliver something off the beaten path for Aasal. Yes, there are a few moments where Rehash Syndrome strikes but he's tried to move away from his recent, lackluster efforts.
For Ajith fans at the very least, that's a plus.
Rediff Rating: