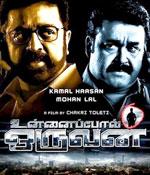 Kamal Haasan and UTV Motion Pictures's Unnai Pol Oruvan (Someone Like You), directed by Chakri Toleti is one of those quintessentially Kamal movies -- it touches on subjects any one else would cringe about, has unexpected characters completely taking over the film at odd places, twists and turns around like the proverbial snake and ladder game -- and finishes on a note that is both puzzling and bizarrely satisfying.
Of course, it also happens to be the remake of the Hindi classic A Wednesday which gave a new dimension to mainstream Hindi films; so expectations are pretty high on both counts. Which makes defining this movie even more difficult.
It helps, though, if you haven't watched the original, because then, the cast of characters and the way they're played come as a complete and welcome surprise: there's common man himself (vintage Kamal Haasan), nemesis I G Raghavan Maraar (Mohanlal), who's saddled the unpleasant task of protecting Chennai, Natasha Rajkumar (Anuja Iyer) the cigarette-toting journalist who's given the ringside view of one terrifying day in the city's life, Arif Khan (Ganesh Venkatram), the tough and rough cop who's deliciously suave and stylish, the CM's chief secretary (Lakshmi)and several other Haasan staples who're there because they're important.
Oh, and there's the chief minister himself. The real one. Only a voice, but his presence is pretty imposing, and that makes the situation even more genuine.
The circumstances themselves are sufficiently riveting: early one morning, an ordinary man plants bags of explosives at random parts of the city. He then proceeds to call up the commissioner, informing him that unless several terrorists involved in the Kovai (and other) blasts are released, he'll proceed to wreak havoc. And the force springs into action.
Its delightful to watch, for the first time, how the bureaucracy really works in such a tense situation: the political tension between the chief secretary and the commissioner, Raghavan Maraar's slip into Malayalam whenever the going gets tough, his steadfast devotion to Tamil Nadu (he argues that its his home as much as Kerala, to much resounding applause), the way the machinery swings into action: the chief minister's call (in Mr Karunanidhi's trademark  raspy voice) to his secretary, the way Arif Khan tracks down criminals and the way his loyalties are continuously questioned.
The conversational battles between Maraar and the Chief Secretary are practically bursting with sarcasm and wit as each tries to shift the responsibility to the other. And there's the tirade between Maraar and the common man himself -- a long exposition that gives some back-story, and tries to explain why he does what he does.
But what really makes Unnai Pol Oruvan a great movie are these things: the lack of songs (or unnecessary fight sequences) anywhere in the narrative except for soaring background bits; the way secondary characters, especially Sethuraman, Natasha and Arif Khan are handled; showing various aspects of the very real battle the police force faces on a day to day basis, instead of having one hero demolish all ...
And somewhere along the line is Arvind, the superstar (Sriman) whose mannerisms are so obviously that of the Ilaya Thalapathi that there are several knowing smirks in the theatre.
Era Murugan's (and Kamal's) dialogues are brilliant (even if they get wordy at some places). The duo does keep in mind the common man's perspectives, and the little nuggets of humour are a definite delight. A little problem might be the over-abundance of English -- but fortunately, the narrative slips into Tamil soon enough.
Manoj Soni's camera work is neat; showing exactly what's needed, and cleverly concealing things when there's a need to. Rameshwar Bhagat's slick editing makes sure the film stays in perspective. Shruthi Haasan seems to have succeeded with the background score -- it rises and ebbs at the right places, and doesn't jar the proceedings.
But undoubtedly, these are merely the technical details. What really makes this movie watchable are the performances. Mohanlal is a delight -- the man's calm assurance, betraying only slightly what he's going through, his ability to think in ten different directions, and to empathise with his subordinates (witness his interactions with Arif, Sethuraman and Natasha) and his affinity to being more a comrade than a superior (the beer dialogue with Arif is classic) -- and his final thoughts are appropriate.
By contrast, Kamal Haasan has himself taken a backseat, coming into his own only in the second half, which is when he stops being a furious middle-aged man driven by an inner force and shows some vulnerability. Both he and Lakshmi fulfill their parts -- they're excellent performers, and can't do bad even if they're offered terrible roles.
The surprise package (in more ways than one) is Ganesh Venkatram. As the stern cop who packs a punch and can get things the right way, this man is a revelation, and you only wish there'd been more for this character to do. And it helps that he's no slouch in the looks department.
If there is a drawback, then it's the way the film ends -- rather abruptly, though technically, the loose ends are all tied up. You're left yearning for some more resolution, more of back-stories, and a little dwelling on emotional issues. But then, that might lead into a full-fledged pot-boiler, and this movie certainly isn't one.
Unnai Pol Oruvan isn't for mainstream buffs with four songs and a fight -- it aims to be cerebral, and plays more towards subtlety and the serious issues that threaten to swallow us, forcing us to look at them instead of just walking away.
Fortunately, its random hilarious moments and human perspective save it from becoming a documentary. And just for that, it merits a must-watch.
Rediff Rating: