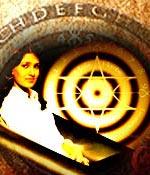 "You've got to be careful in places like these. Your own shadow will terrorise you," Nakulan Ponnusamy (Sathish G) says to himself as he wanders from room to room, voice-recorder in hand, inside a haunted house.
A paranormal investigator, he sits in semi-darkness, listening to odd sounds and tracing light patterns late.
Or Iravu (One Night) -- directed by Hari Shankar, Harish Narayanan and Krishna Shekar -- has taken a few leaves from Blair Witch Project and Paranormal Activity, but it still manages to be original. This is reportedly India's first viewpoint film, which means there is no protagonist. The camera takes that place; you hear what it does and move when it moves.
The Tamil movie begins with a TV show, which investigates bizarre murders. The anchor invites various people on the panel -- including Anand, an industrialist, and Tungsten, a paranormal investigator, to probe Ponnusamy's murder. As members of the public hem and haw through their perceptions of ghosts and the police explain the evidence, you're yanked from the show into the past by Nakulan, who decides to take you through his death through his own eyes.
You follow Nakulan, a paranormal investigator with a degree in supernatural sciences, as Anand employs him to check out a haunted house in Munnar. You follow him as he gets his stuff together and travels to Munnar, rain spattering his windshield, listening to his life history, watching him give a lift to a random guy and getting directions from Govardhan, Anand's friend, who guides him to the house. Govardhan won't come in, so an amused Nakulan moves away foliage, breaks open the lock (the key doesn't fit) and establishes himself in the ruins.
The equipment to track paranormal activity (the word ghost is very rarely used in the movie by Nakulan) are numerous: walkie-talkies, tiny cameras that track the smallest movements, clocks, voice-recorders and what-not and there's junk food and books like Psychic Killers to keep Nakulan amused.
Sathish G, as Nakulan, is so down-to-earth that you can't help identifying with him. His voice portrays dry commonsense and nervousness very well.
The dialogues are refreshingly real. The camera work, by Sathish, is excellent, while Shankar's editing is slick, especially in the first half. You do wish that he'd done some pruning in the second half, though.
Venkat Prabhu Shankar's background score works by not being too jarring; there are no songs.
The only low points are the climax, which can be muddling if you have not paid attention to the movie, and the drop in the spook-factor in the second half, because it becomes predictable.
This movie doesn't cater to lovers of gore, blood-baths and eerie spirits that walk in white. Paranormal activity is tracked in a scientific fashion, making the film mostly mysterious, sometimes puzzling and plain spooky at other times. The pace is intentionally slow, but the attention to detail is mesmerizing. This is definitely worth a watch.
Rediff Rating: