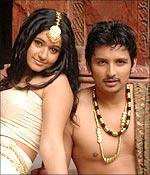 Producer R B Choudhary has come up with a unique USP for Super Good Movies' Tamil movie Kacheri Arambam (loosely translates to Let's get the Party Started!), starring his very own home-grown hero, Jiiva.
He has his son deliver all the chops, fights, dances and punch dialogues requisite of a star but with a note to the audience. "Yes, I'm here to mouth corny dialogues and sing songs, because my dad's a producer and I want to be a commercial hero," he says with a straight face.
It's certainly a technique that's very effective in the beginning. Once you've gotten past the sparkly title, SFX and crashing sound, you've got director Thiraivannan shaking hands with Jiiva on a train, both explaining that they're "building things up" because this is a commercial pot-boiler.
After that, it's a gimmick-laden trip to the past as Jiiva explains exactly why he's on a train to Chennai.
Turns out he's Paari (but you really can't see him as anybody but Jiiva), a guy with the instincts of a do-gooder who donates his bike, watch and even a lakh in cash because someone needs it, and gets a good scolding from his desperate father (Azhagam Perumal, barely recognizable with a moustache and glasses).
After enduring one scolding too many, he departs his native Ramnad, determined to prove himself to his parents and lands up in Chennai.
Cue more SFX gimmicks, and he literally slams into Madhi (Poonam Bhajwa), who rescues him in the nick of time from an accident. Naturally, its love at firsts sight except that every time he tries to talk to her, a car-load of guys try to beat him up.
More punch dialogues, his dad's movie references and fisticuffs later, Paari follows the route taken by R Madhavan in Run, and learns the truth about Madhi. In a situation straight out of Ghilli, she's caught in the invisible clutches of Royapuram Sivamani (J D Chakravarthy), who rescues her from local goons and instantly decides he'll marry (!) her.
Its now a cat-and-mouse game between the uber-villain Sivamani who's the don of dons and Paari, a simple villager but in true cinematic fashion (as explained by Jiiva himself), its Paari who always has the upper-hand, instantly worming himself into the confidence of Sivamani with paltry tricks, insinuating himself in Madhi's affections and bashing plenty of people along the way.
In the meantime, he gets employed, after a fashion, with Deepavali (Vadivel, looking scrawnier), a merchant in Burma bazaar whose fate is to permanently fall flat on his face with the hero's antics, and look stupid. Credit must go to Vadivel, though because at least he makes you laugh. He and Kadhal Dandapani (who's a comical suitor for Madhi) are the reason the first half at least works. The second half descends into mediocrity.
Having decided to follow the commercial route, it's obvious that Jiiva has decided to go the whole way but he diverts your attention and takes you by surprise at several moments, credit for which must definitely go to the director. Jiiva hams, smiles, snickers, makes faces, dances and fights in every way a hero has to, but with a side note to the audience, informing him about his next action. It's like a movie within the movie  but after a point, the references to his industry connections begin to irritate you. Every actor wants to become a star, of course but you really miss Jiiva the actor, who is capable of compelling performances. 
Poonam Bhajwa is her usual, rather listless self. J D Chakravarthy impresses you with his suavity, until he falls for every trick of the hero and loses your respect. That's hardly his fault, though. What he's given, he's done reasonably well. Vadivel performs his comic routine faithfully, and walks away with the good deal of the applause. The rest of the cast is barely there even Aarthi.
D Imman has done his noisiest best to provide a slam-bang musical score; Kadavule is hummable, but the rest barely linger. Shanmugam's art-work is adequate; Jaishankar's editing fails in the last half-an-hour. S Vaidy's camera-work catches your attention, especially during the songs, and is otherwise pretty effective.
Humour is obviously the USP of this particular movie, visible even in Jiiva's hero-centric sequences. Of logic, rationale or sincere story-telling, there's no evidence as the team informs you frankly, at the beginning. So give your brains a rest, and enjoy this typical masala entertainer.
Rediff Rating: