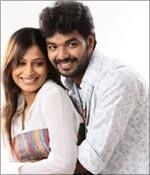 Some films impress you within the first five minutes while some others, you know aren't going to turn out well. Hari Rama Krishnan's Tamil film Adhe Neram Adhe Idam (Same Time, Same Place), directed by M Prabhu belongs to the second category.
A knack for naming films apart, this flick starts off in a pretty mundane fashion: Karthik (Jai) is one of the aimless guys, moping around with his crew (led by a very able Lollu Sabha Jeeva), seemingly living in the lap of luxury, cared for by a father (Nizhalgal Ravi) who only pats his son on the head or addresses syrupy-sweet epithets about not having a mother. Needless to say, Karthik soon spots the perfect girl Janani (Vijayalakshmi), shaking a branch full of rainwater on her – and hey presto! Its love in an instant.
The tedium of star-crossed lovers enjoying romantic interludes is alleviated in two ways: one is Jeeva's rib-tickling, genuinely hilarious comic episodes, ably aided by his team. The other is the unintentionally hilarious and completely cooked up situations which have Karthik and Janani run into each other, events so cliched that you end up laughing. Oh, and you never really get to know what exactly Janani does, except use record notebooks.
Suddenly, the director decides that enough time has been spent on a hapless Karthik fumbling ineptly around a rather contemptuous Janani, and moves in for the kill: within the space of a few minutes, without any rhyme or reason whatsoever, Janani suddenly gets married to the uber rich, cool industrialist Shiva (Rahul), who never seems to work and considers running around his wife shopping, the purpose of existence.
It's supposed to be a cat and mouse game, with the jilted lover, clueless husband and scheming wife providing for plenty of thrills, neat characterisations and emotional situations.
You have Jai running around like a headless chicken, looking lost and frustrated. It's obvious that he's been disillusioned in his role; he looks like he wants to be anywhere but in this movie. His dialogue delivery is slow, ponderous and plain out of it. But the fault has to be shared with dialogue-writer Lalithanand as well -- the sentiments are so cliched.
Rahul does his bit quite well, even if he hams to glory at a few moments.
The real reason this flick is even halfway watchable is Vijayalakshmi, who's a little ball of spitfire. She makes you sit up with anticipation in the romance scenes, and comes into her own when she suddenly turns about-face. She's got spirit, and her homely, girl-next-door face fairly sparkles with emotion. You wish you had more heroines like that.
Premgi Amaren's music is actually hummable, especially the Mudhal Murai -- but the camera work adds to the hilarity of the film.  The editing is just adequate, and Super Subbarayan has obviously gone all out to put in as much force as he can in the fight sequences, which, by rights, don't really have any place in a movie like this.
The real blame for such slipshod work must undoubtedly rest with the director, though this could easily have been a taut, superbly crafted emotional thriller. Instead, there's a serious dearth of logic, completely senseless characterisation and a climax that leaves you as puzzled as amused.
Watch it for Vijayalakshmi and to learn how not to write a screenplay.
Rediff Rating: