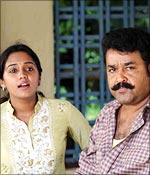 Paresh C Palicha reviews Shikkar.
This Ramazan festival is doubly special for Malayalam film buffs as megastars Mohanlal and Mammootty go head to head at the box office after a long time.
Mohanlal teams up with young director M Padmakumar for the first time in Shikkar. Written by S Suresh Babu, this film has the superstar playing a lorry driver with a mysterious past.
Balaramanan (Mohanlal), a courageous lorry driver, works as a bamboo transporter. He is a single parent whose teenage daughter, Ganga (Ananya), is attempting to crack the MBBS entrance exam. Ganga is the centre of Balaraman's life and he is very protective about her, to the extent of paranoia.
The story flows smoothly, with Balaraman projected as the typical hero -- taking up cudgels against the bad guys and protecting his flock. This is interspersed with violent shots from the past that is supposed to send shivers down the viewers' spine.
Added to this mix are characters and situations that depict the lifestyle of the rich, a slightly stretched comic track courtesy Jagathy Sreekumar and Suraj Venjaramoodu and even a gypsy song by director-actor Lal.
Things however, come to a boil, only after the interval.
Suresh Babu's script seems to be heavily inspired by two recent, much-discussed films; Madhupal's Thalapavu and Blessy's Bhramaram. The subject of Naxalism seems borrowed from the former while the edgy-eerie feel has been taken from the latter.
Technically, Shikkar is a cut above the Malayalam films that make it to the theatres these days. The credit for this should go to Manoj Pillai, who captures the lush forests (especially in the second half) and the emotional range of the actors with equal ease.
Balaraman does not demand much from Mohanlal; we get a feeling that director Padmakumar was confused about how to project him -- as a mass hero or the superb actor that he is? He kept swinging between giving him a punch line in one shot and trying to capture the vulnerability on his face in the next.
Ananya as Ganga may have an important role on paper, but it is not justified on the screen; it loses its sheen under the shadow of the superstar. Youngster Kailash, as Ganga's beau, Manu, scores a few points despite having a small role.
The rest of the supporting cast, including Lalu Alex as Balaraman's neighbour and the owner of roadside eatery, put in a standard performance.
Final analysis: Young Padmakumar tried to make Shikkar a mass-entertainer as well as a film with artistic merit; unfortunately, it falls somewhere in between.
Rediff Rating: