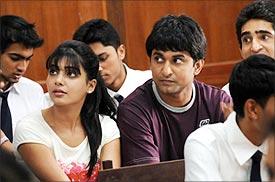 Radhika Rajamani feels Telugu film is a believable love story.
Gautham Vasudev Menon, who's back with yet another love story --
Yeto Vellipoyindi Manasu
-- makes them relatable, emotional and lyrical with some good music.
Yeto Vellipoyindi Manasu
is packaged with all the right ingredients -- a fairly good and sensitive screenplay, fine performances by the lead pair, Nani and Samantha, melodious music by the maestro Ilaiyaraja and decent production values. The film is largely relatable.
Yet it is very slow paced and this seems to be the main deterrent.  
The story traverses through three different phases of Varun Krishna (Nani) and Nithya Elavarthy's (Samantha) love life --school, college and later when they are 25. They fall in and out of love during the film. The film, therefore, moves back and forth to track their romance, break-up, patch-ups all on account of different issues /reasons in their lives -- family responsibility, ego, self interest etc.
In this romantic journey of the lead pair, the audience is pulled into the varied emotions they experience. The joys, sadness, friendship, family -- all are woven into the rather realistic narrative.
Despite
all these delightful elements, the film's slow pace wears it down. However, Nani and Samantha try to keep it lively with their little tiffs and their emotional upheavals as they cruise along.
Subtle nuances have been faithfully rendered by the actors by way of their performances. Menon shows his understanding of contemporary relationships yet again. And he's definitely a master at that.
The dialogues too have a whiff of humour in many places and is ably supported by the presence of Krishnudu. 
The camera work is not as good as in
Ye Maaya Chesaave
; it could have been better. The editing too could have been looked into.
Nani and Samantha steal the show with their heartfelt and natural performances. For a love story, the acting of the main leads is crucial and these two do a convincing job. They live their roles of Varun and Samantha and that adds authenticity to the film.
Ilaiyaraja's music and background score provide fitting backdrop to the love story. The songs
Layi Layi
and
Yedi Yedi
linger.
Yeto Vellipoyindi Manasu
is a believable love story and can be watched for Samantha and Nani who shine all the way through in their emotional journey.
Rediff Rating: