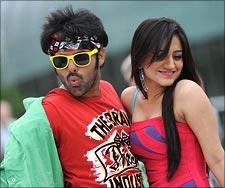 Radhika Rajamani feels  Kandireega is for Ram fans. Post YOUR reviews here!
Director Santosh Srinivas's debut film
Kandireega
follows a formula but is quite entertaining for all that.
As the hero, Ram steals the show making his presence felt in every frame.
Kandireega's
comedy comes from the dialogue more than from the antics of the comedians Dharamavarapu Subramaniam, Ms Narayana and Raghu Babu.
Seenu (Ram) is a terror in Anakapalli where he lives. Everyone is scared of him. He wants to marry his cousin Buji (Swati) but she backs out on their engagement day and a hurt Seenu goes off to pursue a degree in a college in Hyderabad.
There he falls in love with Shruti (Hansika) who is supposed to marry Bhavani (Sonu Sood), but Seenu makes her fall in love with
him. The plot gets more convoluted. Shruthi is kidnapped by Rajanna (Jayaprakash Reddy) and taken to Warangal, the aim being to get Seenu there because Rajanna's daughter Sandhya (Aksha) loves Seenu. Rajanna fixes Seenu's marriage with Sandhya, and the question is who will Seenu marry?
The film is fun to watch in the first half as Ram makes it so with his high-voltage energy and antics and gives a comic touch to his role.
The second half, however, drags on endlessly. An attempt is made to inject some suspense into the proceedings but the outcome is rather predictable.
 Hansika and Aksha do well, Sonu Sood is good as the villain. JP Reddy is his usual self, while the comedians have not much to do here. The music by Thaman S.S. is just about okay. On the technical front the film is adequate.
Watch
Kandireega
for Ram who entertains all the way!
Rediff Rating
: