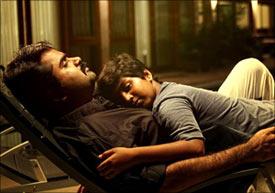 Paresh C Palicha says Trivandrum Lodge is a frank retelling of people's cravings and desires and if not entirely successful, it does have something going for it
It is better to be openly promiscuous and let your desires be out in the open without any coyness or shame so that the world around you is a safer and better place to live in.
This is the message that writer Anoop Menon and director V K Prakash convey in their new film
Trivandrum Lodge.
To this end, a variety of people—from a recently divorced wannabe writer to a retarded orphan surviving by doing odd jobs—are made to talk openly (bordering on the obnoxious sometimes) about their cravings, fantasies and frustrations with whoever is willing to lend a ear.
Dhawni (Dhawni formerly known as Honey Rose), who is recently divorced, wants to write a novel about Kochi. It's not the usual stuff about the Portuguese or Dutch invasion, but about the contemporary city and its underbelly.
Being a modern and fearless woman, she wants to experience the smells and sounds of such a place on her own.
She thus gets accommodation in a rather dilapidated looking place called Trivandrum Lodge, whose other occupants are mostly on the verge of destitution.
There is a retarded looking young man Abdu (Jayasurya), the sub-editor of a sleazy film magazine (Saiju Kurup), and a retired government servant Kora (P Balachandran) who claims to have in-depth
knowledge of the female form.
The attempt is to depict a wide spectrum of people from Abdu, who considers his celibacy a curse, to Ravi Shankar (Anoop himself), the owner of Trivandrum Lodge
,
a widower, who feels that his celibacy after his wife's death is bliss, he being a 'one-woman man' who had given his body and heart to only one woman.
As a writer Anoop Menon is at his self-indulgent best oscillating between the crude and the esoteric. His defence may be that the characters demand such treatment, but it does make us squirm in our seats.
There are faint echoes of Gabriel Garcia Marquez's novella
Memories of My Melancholy Whores
in this story. Anoop Menon also pays tribute to P Padmarajan and his fascination for streetwalkers (here it is Thesni Khan repeating her
Beautiful
act.
The ensemble cast of Jayasurya, Dhwani, P Balachandran, Saiju Kurup give natural performance thus giving some credibility to the plot.
Trivandrum Lodge
, V K Prakash's new venture with his
Beautiful
team of Jayasurya and Anoop Menon, does not get an unqualified thumbs up, but it has got a lot going for it.
Rediff Rating: