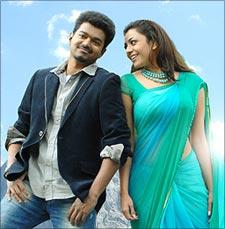 Pavithra Srinivasan says Thuppakki's music is a rehash of Jeyaraj's earlier tunes.
Considering it's the coming together of two giants of the Tamil film industry, Ilaiya Thalapathi Vijay and director A R Murugadoss, much is expected from the upcoming
Thuppakki
.
Add to that Harris Jeyaraj's music, and you have a chartbuster in the making. Or don't you?
Here's a listen at the album, to find out:
A high-pitched blast of Hindi welcomes us first, as the song segues into a steady beat and Hariharan starts off
Kutti Puli Koottam
, accompanied by Tipu.
Viveka's lyrics are strictly functional and offset the North Indian flavour, intermingling with the uniquely south Indian instruments. The song pursues its simple beat and the
charanam
offers a few beautiful moments. Not brilliant, perhaps, but pleasant, nevertheless.
Antarctica
kicks off with synthesised music, even a whiff of the eighties as Vijay Prakash takes up the vocal reins. Karky's lyrics supply the romantic quotient. Devan and Krish accompany the vocals, while Rajeev supplies the rap section.
This one is a soft song, a farewell, with equal parts of anguish and sweet sorrow. Karthik infuses his voice with emotion for
Poi Varavaa
, as Chinmayi hums along in accompaniment.
The gentle strings of a guitar meet Pa Vijay's sentimental phrases. Midway, the song changes into what you by now expect is a montage number—slices from the life of a soldier serving his country. A pleasant listen.
Someone shrieks with laughter and then the announcement, "This is Veejay!" kicks off Google Google, supplied with Karky's standard simplistic web-jargon, and Andrea launches energetically into the song.

This is Vijay's song as well, as he joins Andrea. Joe and Krishna Iyer supply the rap; the interludes are all filled with weird and wonderful sounds as is usual in a Harris Jeyaraj number. Just for the sake of its phrases and singers, this number might well become this album's chartbuster.

Another folk song in Hindi, and Vennilave comes to us complete with slow, steady beat, and the voices of Hariharan and Bombay Jayashri. The song obviously tries to emulate the haunting melody of numbers like Annal Mele and Ondra Iranda  but doesn't manage to be quite as melodious.

The way Alaikaa Laika begins reminds you a lot of the old classic Madai Thirandhu … and you realise that this song too pretty much falls into the peppy Harris Jeyaraj collection, which means that it is lots of synthesised music, loud shrieks and mandatory youthful jargon, all rendered courtesy of Javed Ali, Sayandra Philip and Sharmila.

Jagdish on mission, which also happens to be the theme music, happens to be a mildly appealing mixture of suspense, bursts of synthesised music with rapid staccato beats. Strictly functional, and there's nothing more to be said.

Taken altogether, Thuppakki seems to be a collection of songs, tailor-made by Harris Jeyaraj for both Vijay and A R Murugadoss.
Except
Google Google
and the mildly melodious
Poi Varavaa
, the rest are all oft-heard, and seem a mish-mash of his earlier tunes. Listen with low expectations.
Rediff Rating: