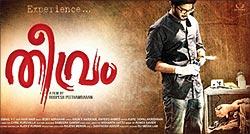 Paresh C Palicha says that Theevram's interesting plot keeps its viewers gripped but leads to lukewarm ending.
Sometimes, going against the trend may give you good results. First time director,
Roopesh Peethambaran
, attempts this in
Theevram,
with Dulquer Salmaan in the lead.
The film is a revenge saga to the core, but the director keeps the viewer interested in the outcome by tweaking the formula a little.
The film begins with a series of seemingly unconnected events that work as the prologue for the main story. Dulquer makes a hero's entry in a speed-boat wearing glares and stylish clothes.
Next, we see that he has abducted an auto driver (Anu Mohan) and is torturing him with psychopathic zeal in the basement of his home.
In time we come to know that he is
Harshvardhan
, a professional musician who earns a living by teaching music to young kids.
We are introduced to other characters such as police officer Alex (Sreenivasan), his assistant Ramchandran (Vinay Fort), Harshvardhan's friend Dr Roy Philip (Vishnu Raghav) and his wife (Riya Saira).
Though
we instinctively know that there is a gruesome back story, the cruel behaviour of the leading man is somewhat disorienting.
To the credit of the director, he does not let the camera capture the violent acts graphically.
The story is dark in the first half and the lighter side is kept for the second half, leading to a lukewarm ending.
The influence of Tamil director Mysshkin's style of filmmaking is obvious, particularly
Yuddham Sei
(2011) starring Cheran.
Dulquer Salmaan's performance in the first half is that of a serious, revenge seeking young man. It's quite the opposite in the second half where he is the jovial, principled young musician working hard to find a foothold in the film industry. 
Sreenivasan is the subdued police officer who hates his job but is good at it. In fact, it is his character that binds the first half together. Vinay, as his subordinate, is good. No one else in the cast succeeds in grabbing our attention as these three do.
Director Roopesh Peethambaran had appeared in
Spadikam
(1995) as the younger version of Mohanlal.
Here, he makes a promising entry behind the camera but loses his grip in the middle. Still, he will be someone to watch out for in the future.
Rediff Rating: