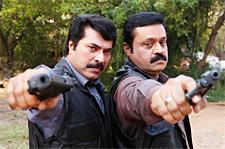 It's high on nostalgia but The King And The Commissioner has nothing new to offer says Paresh C Palicha.
It is difficult to make a successful sequel because if the original is a hit, then expectations from the sequel will be too high. That's partly the problem with
The King And The Commissioner
. Director Shaji Kailas and writer Renji Panicker have brought together two successful characters from earlier and different films to make this new film.
Mammootty and Suresh Gopi starred in the two films in the mid-90s.
The King
(Mammooty) was a collector in a riot torn city and was responsible for quelling the riots. The
Commissioner
(Gopi) was a belligerent police officer who had scant regard for his masters who were corrupt or indulged in unlawful activities. Renji Panicker also made
Bharathchandran IPS
as a sequel to
Commissioner
in 2005.
The policeman and the bureaucrat now shift base to New Delhi and use their joint talents to ward off a 26/11 like attack in the capital, whose target is none other than the Prime Minister of the country.
 Joseph Alex IAS is now serving the Home Minister (Janardhanan), and has been hand picked by the Prime Minister to carry out this operation. Bharathchandran comes in the frame to provide security to Joseph Alex and to assist him.
This film is a political thriller. It begins with a couple of murders and the heroes get a chance to utter bombastic dialogues about the prevailing political situation.
The first half goes smoothly with the investigation and provides the background of the characters. But the second half becomes something of a speech-athon, if we can use that term.
The superstars carry the burden of the film on their shoulders and have to hold the viewers' attention with some nostalgic blasts from the past. Some characters from the earlier films reappear here, like Devan who played a corrupt IPS officer in
The
King
and KPAC Lalitha who played Mammooty's mother.
Janardhanan as the Home Minister is his usual self. Veteran Marathi actor Mohan Agashe is wasted as the Prime Minister.
Samrutha Sunil is the daughter of the home minister and a journalist who admires Joseph Alex, but she doesn't affect the story much.
The King And The Commissioner
works best as a bit of nostalgia but not much else.
Rediff Rating: