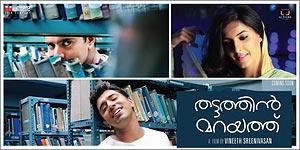 Paresh C Palicha says that Thattathin Marayathu gets stuck between trying o be humorous and being serious at the same time.
Thattathin Marayathu,
the much anticipated film by writer-director Vineeth Sreenivasan, with Navin Pauly and débutante Isha Talwar in the lead, is a Hindu-Muslim love story. It feels as if the director wishes to prove he can handle subjects of epic proportions.
When Vinod Nair (Navin Pauly) falls in love with an ethereal beauty Aisha (Isha Talwar), we expect that they will have to battle seemingly insurmountable odds. Vinod is averse to education, from a poor family, and has leftist ideals (there is a big poster of Che Guevara in his room). Aisha is from a rich and politically influential family from the other end of the spectrum. Still, there are no conflicts, making us wonder if Vinod is hallucinating (since he is narrating his version in the first half and Aisha is virtually silent throughout).
The screenplay does try to be interesting going back and forth in the first half, and even has cheeky humour punctuating the proceedings. But, after a while, it feels as if the story is stuck in 'no man's land', not knowing whether to adopt a serious
tone or go with the humorous flow.
Supporting characters play a vital role in such films. Here there are a bunch of them, the most important being SI Prem Kumar (Manoj K Jayan with a Thiruvananthapuram accent), who initiates the flashback in the police lock-up and agrees to play St Valentine if Vinod's story holds any water. There are two actors from the
Malarvadi
gang-- Aju Varghese as a friend of Vinod and Bhagath Manuel who becomes a courier between the lovers in the later stages.
At first Vinod looks like an intense and obsessed lover who gets violent with a police constable in jail when the latter makes a snide remark about Aisha. But, as the story goes into flashback, we see that he is just a typical teenage lover smitten by the beauty of a girl.
Aisha too is a disappointment as the leading lady with a modern outlook living in an orthodox household. We are told she has won an essay competition in a youth festival, but we see her strumming a guitar most of the time, and even on stage, without being given any explanation.
Thattahin Marayathu
is musical love story but lacks intensity or substance.
Rediff Rating: