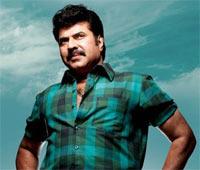 Paresh C Palicha says Thappana does not go overboard nor is it overly dependent on the star.
Mammootty does nothing new in
Thappana
, directed by Johnny Antony and written by M Sindhuraj.
He plays a petty criminal named Samson to whom prison is a second home. The story starts with him getting out of jail together with a woman he does not know, but with whom he falls in love at first sight.
She is critically injured in a hit-and-run accident case. Samson stays with her in the hospital to take care of her. When she is well he accompanies her to her native place.
Her name is Mallika (Charmi), and she had killed someone to save her husband from being killed. Her husband Manikuttan aka Kannukuttan (Murali Gopy) was rumoured to be having an affair with their neighbour's wife, and it was the jealous husband who had wanted to kill Manikuttan.
Mallika went to prison for the murder, but when she returns home after her release, she finds
Manikuttan living with the victim's wife by whom he has a child. So, she tells Samson to stay back to get even with her husband and take revenge.
The first half of the film is filled with funny instances and situations as Samson tries to charm Mallika without knowing that she is already married. The humour never wanes but things do get serious in the second half, though never grave.
Mammootty shoulders the responsibility of carrying this character-driven film on his shoulders and he does it subtly, without going overboard.
Charmi supports him well. She is a foil for his humour, but never appears as the typical 'damsel in distress.'  Murali Gopy looks and acts the part of the menacing bad guy.
Thappana
has the flavour of a typical star film like
Rajamanikyam
or
Mayavi,
but it does not go overboard nor is it overly dependent on the star.
Rediff Rating: