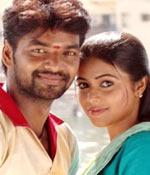 "Does anyone even know that we were the first people to bring a story on-screen?" asks a Tholpavai puppeteer wistfully. 
This theme pretty much forms the backbone of Moserbaer and Blue Ocean's Tamil movie Aval Peyar Tamizharasi (Her Name is Tamizharasi), directed by Meera Kathiravan, who dedicates the film to his mentor, Lohitha Das.
The director deserves kudos for even taking up the subject of folk arts -- once a vibrant, colourful form of entertainment and education, now valiantly kept alive by patrons and die-hard practitioners of the art.
It takes a great deal of research and a genuine love of the art-form to take it as a backdrop, and exhibit it with all the intricate details intact, both in Tamil Nadu and Maharashtra. The casting for the roles of the puppeteers is perfect -- Veera Santhanam, Dhiyana, Rama et al, have lived the characters. Special credit must go to S S Murthy, the art director, for bringing a Nellai village, its surroundings, and the tholpavai accoutrements to life.
They make up a great part of the story, which has a young boy Jothi Murugan, the son of the landlord (Theodore Bhaskaran) of a village in the Nellai district, instantly befriending Tamizharasi, part of a family of puppeteers who travel from one village to another.
The two bond almost at first sight; the years only strengthen the friendship as an adult Jothi (Jai) and Tamizharasi (debutante Nandhagi) pass through all the trials and tribulations of adolescence, song and dances (here's the delightful Kudu Kudu Goods Vandi, and Nee Otha Sollu), and friendly trysts.
In the meantime, the proceedings are enlivened a good deal by Othappuli (Kanja Karuppu) who exists for no other purpose than to provide comic relief, and Jothi's friends Kuthoos (S S Kumaran) and others, who all weigh in on Jothi and Tamizharasi's relationship, one way or the other.
Inevitably, the two best friends slowly become lovers -- but there are other rifts between them: Jothi's studies falter while Tamizharasi, spurred on by her family, studies extraordinarily well. Unable to stomach the possibility of separation, Jothi gives in to a brash impulse and commits a deed that changes their lives forever.
And at this point, the movie, which has been going at a reasonable pace, slows down almost to a stop. Jai and Nandhagi, who've been performing as well as they can up to this point relapse into stock expressions, tears and a mulish look that doesn't take the narrative forward.
While Raja Mohammed's editing is a bit choppy at places, P G Muthiah's camera-work makes up for it with its sharpness, and a certain romantic feel that works well with the first half of the screenplay. The scenes at night with the fireflies are a particular delight.
Vijay Antony has slaved away to produce a rustic feel in his songs and succeeds. You do feel, though that in some parts, silence would have been more effective than a background score.
The biggest disappointment, however, is the lack of emotional investment with the lead pair, after a certain point. They go through cataclysmic events which don't leave much of an impact though the folk-art backdrop tries valiantly to rectify this, as well as the Nellai dialect. Shades of several rural movies such as Poo and Paruthiveeran are very evident and bring you a sense of having seen it all before.
Director Meera Kadhiravan shows that he has a flair for comedy, a fierce loyalty for our art-forms and a genuine liking for logic. If he'd taken care at tightening his script, this would have been a cult classic.
Rediff Rating: