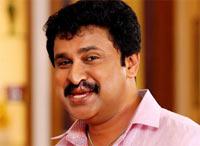 Paresh C Palicha says Sound Thoma does not have any thought to the storyline and ends up being just another senseless entertainment.


Some of Dileep's movies are boringly repetitive, especially the ones released during the vacations. They are targeted at kids who will coerce their parents into taking them to the theatre. It may be good marketing but not quality film-making.


The films have similar stories and are structured in the same manner; only the people behind them change.


The film in question is Sound Thoma-- the title itself is a mimicry of Aadu Thoma, the famous character played by Mohanlal in Spadikam (1995), and the real element of mimicry here is speech impairment.


The film is scripted by Benny P Nayarambalam (who has written a couple of hits for Dileep in the past) and directed by Vysakh, who can be termed as the hit-maker of recent times.


Thoma (Dileep) was born with a cleft lip and his miserly dad Paulo (Sai Kumar) refused to medically correct his son's deformity justifying it as god given. This led to the impairment in speech and his subsequent dropping out of school after the sixth standard.


Thoma is in love with Sreelakshmi (Namitha Pramod), a radio jockey and daughter of a music teacher played by Vijayaraghavan. Thoma uses every trick in the book to woo Sreelakshmi but gets nothing except ridicule from her and others.


Her father wants her to marry a singer. That pushes Thoma to learn singing and to make an effort to prove himself as a public performer. Do not expect anything sensitive or profound here. Everything is done just to induce laughter mostly of the slapstick kind.


Benny P Nayarambalam was associated with two of the most talked about films in Dileep's career, Kunjikoonan (2002) and Chanthupottu (2005). But the magic of his pen is not visible here and he just doles out gimmicks. There is an effort to make a comment on inter-religious marriages but that too get buried in the gags that keep popping up every minute.


Dileep makes an effort to be endearing but his characterisation lacks substance or solidity. Sai Kumar has a strong presence as far as his get-up and screen time is concerned, but his thought process and actions lack rhyme or reason.


Sound Thoma may work for those looking for some senseless entertainment. For anyone else, it is a disappointment.


Rediff Rating: