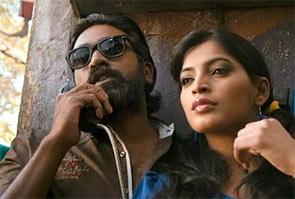 Tamil film Soodhu Kavvum is an engaging film, with ingenious characters and entertaining situations, writes S Saraswathi.

After hit films like Attakathi and Pizza, producer CV Kumar is back with his third venture, Soodhu Kavvum. It has been directed by debutant Nalan Kumarasamy, one of the talents of Naalaiya Iyakkunar, a reality show for aspiring directors.

Soodhu Kavvum stars Vijay Sethupathy and Sanchita Shetty, alongwith MS Bhasker, Ramesh, Simhaa, Ashok, Karunakaran, Yog Japee and Radha Ravi in significant roles.

It is a norm in Tamil cinema to create a grand opening scene for the lead actor like a thrilling chase-and-rescue mission or daredevil stunts or a peppy dance number. The opening scene in Soodhu Kavvum, however, has our hero Dass (Vijay Sethupathy) getting beaten up by a teenage girl with volleyball after a failed attempt at kidnapping. This hilarious scene has the audience in splits and sets the mood for the movie.
Dass, a small-time smuggler, wants to graduate to the next level, kidnapping, which he believes is more exciting and lucrative. Upset by his failed attempt, he goes to the bar to vent out some steam. He finds himself in the company of three desperate jobless friends Pagalavan (Simhaa), Kesavan (Ashok) and Sekhar (Ramesh).
Dass convinces them that he has the perfected the art of kidnapping and asks them join him. Having no other alternative, they do.
Soon they become successful, and can pull off a series of kidnapping without any hitches.
Things move smoothly until one day, they decide to raise the stakes and kidnap a inister's son. What follows is complete mayhem, and the real fun begins.
A very peculiar, but extremely lovable character in the film is Shalu (Sanchita Shetty), who plays the love interest of Dass. What is exceptional about this character is that it is not real; Shalu is a figment of his imagination and is visible only to him. The sexy Shalu is the ideal male fantasy, who evokes a lot of laughter with her absurd dialogues and action.
What sets the film apart is that in spite of being a comedy film, there are no typical comic one-liners or forced comic situations. The predicament of the characters provides the comic element to the film. Even the most serious dialogues in the gravest situations make the audience laugh uncontrollably.
With every film that he has acted in, Vijay Sethupathy has always managed to raise the bar to an entirely new level. As a grey-haired, 40-year old with psychotic tendencies, speaking broken English, Vijay Sethupathy in Soodhu Kavvum is truly unbelievable.
There is some good all around performance, especially Simhaa and Ramesh, who manage to steal the show with their unpretentious and honest performance.


Full credit goes to the director, Nalan Kumarasamy, for transforming a simple plot into an extremely engaging film, with ingenious characters and entertaining situations.
Good cinematography, crisp editing and the refreshing non-conventional background score make this film even more distinctive. A must-watch.
Rediff Rating:

S. Saraswathi in Chennai