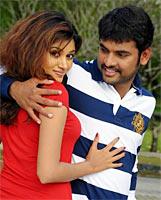 Tamil film Sillunu Oru Sandhippu is a must watch for teenagers, who believe their love is real, writes S Saraswathi.

Sillunu Oru Sandhippu is not your average run-of-the-mill triangular love story.

Written and directed by debutant R Ravi Lallin, SOS is a simple yet beautiful love story. This film stars Vimal, of Kalavani and Pasanga fame, with debutante Deepa Shah and Oviyaa.

Produced by S Nanthagopal, under the banner of Madras Enterprises, this movie was scheduled to be released in January, but was postponed so as to not clash with big films like Kadal, David and Vishwaroopam.

Sillunu Oru Sandhippurevolves around three characters -- Ashok (Vimal), Charu (Deepa Shah) and Geetha (Oviyaa). The film opens in a school in Ooty, where Ashok and Geetha are class XII students, who fall in love with each other. When their parents come to know of their love, they are forced to separate, but not before promising to get back together when they are older.
The scene then shifts to many years later when a much older Ashok returns to Ooty from the United States. Ashok's brother is married to Charu's sister. Ashok then falls in love with Charu and since both families feel that they would make a good match, they give them the green signal. Things progress smoothly and the happy couple gets engaged.
This is when the movie takes an unexpected turn.
Director Ravi Lallin has shown that puppy love or infatuation cannot form the basis for a successful marriage. Through his narrative, he proves that as an individual matures and gains an identity, his ideals and beliefs also change. Things which once seemed so important become insignificant and so decisions taken during this stage invariably end in sorrow and heartbreak.
Though the film is beautifully shot with some great dialogues, it is slow paced and some of the scenes really drag.
Actor Vimal has proved many times in the past that he can act, but in this film he proves that he can handle urban characters just as well as village-oriented ones.
Oviyaa and Vimal share a great chemistry on screen. They have previously worked together in two films, Kalavani (Oviyaa's debut film) and Kalakalappu, both of which have been super hits.
Deepa Shah with her girl next door looks portrays her character well and is apt for the role.
Manobala, who plays the role of Ashok's uncle in the film, provides the comic element. There is also some comedy in beginning of the film when Ashok and Geetha are in school.
Music by F S Faizal is pleasant, especially the melody song Adi Aathi by Aalaap Raja and Anitha. Also the Bussey Bussey number by Vijay Prakash and Rita has become a hit with college students.
SOS has two cameramen, Rajesh Yadhav and Aaro, and most of the scenes have been shot in the beautiful hill stations of Ooty and Kodaikanal.
Sillunu Oru Sandhippu is a must watch for all teenagers who believe that their love is real and will stand the test of time.
Rediff Rating: